Stuffed Mushrooms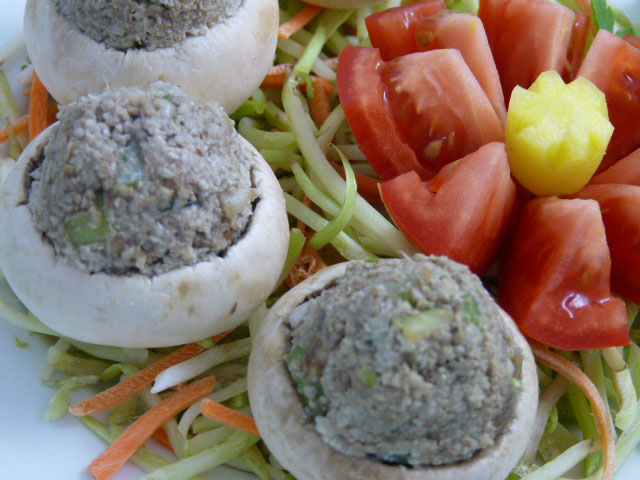 These petite stuffed mushrooms can be served as an appetizer, or become part of the main course when accompanied by a salad. Either way, they are filling and delicious.
Recipe Author: Beautiful on Raw
Preparation Time: 40
Serves: 4
---
Ingredients:
12 – 14 white button mushrooms
1 ½ cup sunflower seeds, soaked
1 Tbs. fresh basil
2 garlic cloves, minced
3 tsp. lemon juice plus the juice of 1 lemon for marinating the mushroom caps
½ tsp. Celtic sea salt or to taste
2 Tbs. water
1 date, pit removed and finely chopped
½ cup celery, finely chopped
1 tsp. green onion, minced
Cut the stems from the mushrooms and carefully scoop out some of the inside of the mushroom caps to make space for the stuffing. Gently toss the caps in lemon juice a few times to marinate lightly, while preparing the stuffing. Place sunflower seeds, water, basil, garlic, 3 tsp. of lemon juice, salt, and a date into a food processor and process until smooth, using a spatula to score the sides of the bowl if necessary. Stir in celery and green onion, and adjust salt and lemon juice to taste. Stuff mushroom caps with the mixture. Serve right away, accompanied by a colorful salad. Preparation time is 40 minutes plus time for soaking seeds.
Ingredients: basil, celery, dates, garlic, green onion, lemon, mushrooms, sunflower seeds
Recipe Type: Main Course, Snack