A Layered Fruit Salad for the 4th of July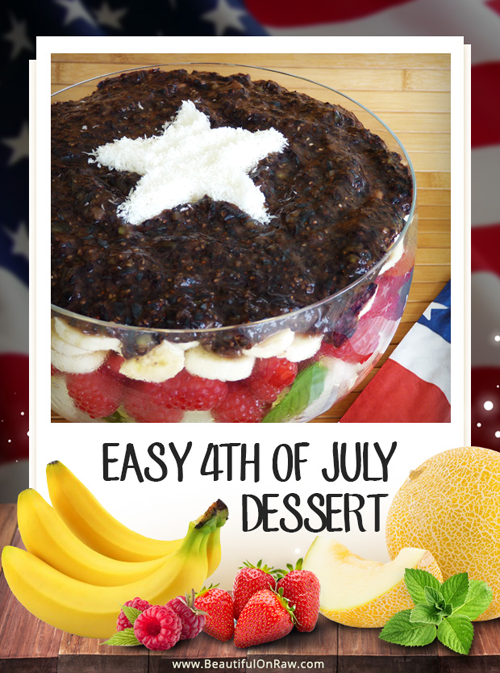 Prepare for a festive Independence Day party with this beautiful fruit salad with explosive taste of berries and melon.
Recipe Author: Beautiful on Raw
Preparation Time: 30 minutes
Serves: 6 to 8
---
Ingredients (to fit a bowl 8" in diameter and 4" deep)…
2 ½ cups strawberries, hulled and quartered
3 cups any light-flesh melon, such as golden or regular honeydew, peeled and cubed
3 cups raspberries
1 to 4 big bananas, peeled and sliced
2 cups blueberries
1 Tbsp. chia seeds
2 Tbsp. unsweetened shredded coconut
a few small fresh mint leaves (optional).
Directions…
Wash the fruit, allow to dry a little. Prepare melon and bananas before you start arranging layers. Place blueberries in a food processor, pulse until the berries are broken down, but still chunky. Add chia seeds and pulse a few more times to mix. Let the mixture sit for 15 minutes to thicken. Meanwhile, assemble red and white layers in a big glass salad bowl. Strawberries go as the first layer, followed by melon, then raspberries, and bananas. Insert mint leaves here and there to break the monotony of white and red.
Try to make the banana layer as even as possible, covering the small openings with banana pieces to prevent the blueberry layer to seep through too much. When satisfied with the results, position a star cookie cutter in the middle of the bowl, and press down gently to secure it. Pour the blueberry/chia mix around the cutter, spreading it evenly. Using a small spoon, add the shredded coconut inside the cookie cutter, filling all 5 star points with it. Leave the cutter in the salad until ready to serve to prevent coconut from taking on a blue tint from the berries. Refrigerate. When ready to serve, gently lift the cookie cutter straight up to reveal the star.
Ingredients: strawberry, melon, raspberry, banana, blueberry, chia seeds, coconut, mint leaves
Recipe Type: Salad