Creamy and Crunchy Sunchoke Salad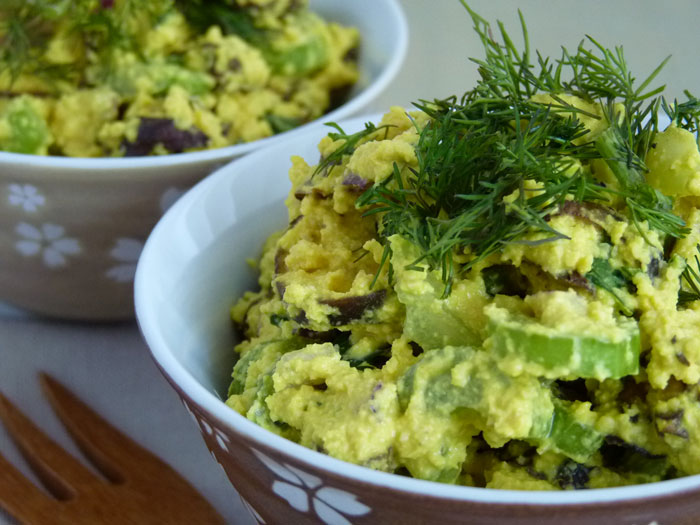 This crunchy salad tastes surprisingly similar to egg and potato salad, but it doesn't contain either. Sunchokes, which are widely available in the fall and early winter, are a good raw substitute for potatoes, while cashews and turmeric bring the color and texture of eggs to this dish.
Recipe Author: Beautiful on Raw
Preparation Time: 20
Serves: 3
---
Ingredients:
3 cups Jerusalem artichokes (sunchokes), scrubbed with a vegetable brush and sliced
1/3 cup red onion, peeled and finely chopped
1 cup celery, chopped
¼ cup parsley leaves, finely chopped
¾ cup water
Juice of ½ lemon
1 tsp. turmeric
2 cloves garlic, minced
1 tsp. Celtic sea salt, or to taste
1 ½ cup cashews, soaked for a few hours
fresh dill for garnishing
Place the sliced sunchokes in the dehydrator overnight to take some of the "crunchiness" away. Transfer to a bowl. Place the cashews, water, lemon juice, salt, garlic and turmeric in a blender and blend until the mixture becomes almost homogenous in texture. Add this mix to the bowl with the sunchokes, add celery, onion and parsley and mix it all together. Allow to sit for a few hours covered in the refrigerator for all the flavors to blend and vegetables to soften. Sprinkle with fresh dill before serving. Note: Preparation time is 20 minutes plus time for soaking and dehydrating.
Ingredients: cashew, celery, dill, garlic, lemon, parsley, red onion, sunchoke
Recipe Type: Main Course, Salad