American Flag Raw Cake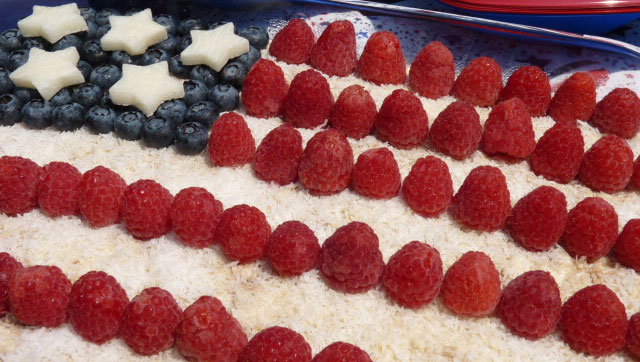 Summer berries are here, and so is Independence Day! You won't feel guilty bringing this type of cake to the 4th of July potluck: it's raw, sugar-free and abundant in berries.
Recipe Author: Beautiful On Raw
Preparation Time: 90
Serves: 12
---
Ingredients for the crust:
3 cups walnuts, soaked overnight and dehydrated for 1 hour
½ cup raw carob powder
7 Medjool dates, soaked for 1-2 hours, depitted and cut into pieces
¼ tsp. Celtic sea salt
dash of vanilla or seeds from 1 vanilla bean
1/8 cup water, reserved from soaked dates
Ingredients for the filling:
4 frozen bananas, cut into chunks
2 cups strawberries, cut into pieces
Ingredients for the topping:
2 cups nuts, such as macadamia, cashews, pine nuts, or a mix, soaked for 2 hrs. and rinsed
2 tsp. lemon juice
2 Tbs. honey
1/2 cup + 2 Tbs. water from soaked dates
To decorate the cake in the form of the American flag:
½ cup unsweetened shredded coconut (background)
blueberries (for blue sky)
raspberries (for red stripes)
bananas (for stars).
Directions:
Crust.
Process all the ingredients in a food processor, until the mixture sticks together when pinched between your fingers. Spread the crust on the bottom of a Pyrex dish (13x9x2 inches) with the help of your fingers.
Filling.
Blend bananas and strawberries in a food processor until well blended. Spread the filling over the crust evenly. Place the dish into the freezer for about 45-60 min. until the top layer becomes more solid.
Topping.
Combine the topping ingredients in a high-speed blender, and blend until thoroughly blended. Spread the topping evenly and gently over the filling, using your fingers or a spoon, and sprinkle with coconut flakes. Decorate the cake with berries, using a small star-shaped cookie cutter for banana stars.
Ingredients: banana, blueberry, carob powder, coconut, dates, lemon, macadamia nuts, raspberry, raw honey, strawberry, vanilla, walnut
Recipe Type: Dessert