Mulberry Cream Cake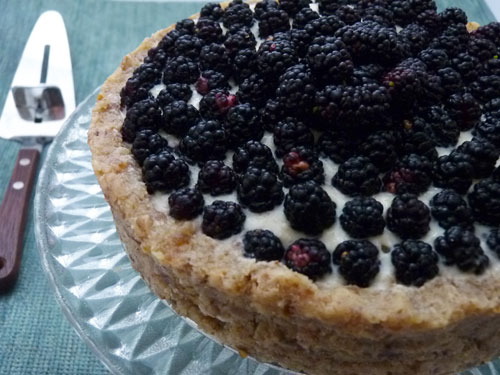 Without a doubt the best way to eat mulberries is straight from the tree (or from the ground, since mulberries fall down when they are perfectly ripe). If you'd like to make this delicious berry a part of your dessert dish, here's a simple cake you can whip up a jiffy, if you have soaked nuts and frozen bananas on hand (and a mulberry tree covered in berries somewhere in the neighborhood) ok well maybe it does take a little preparation.
Recipe Author: Beautiful on Raw
Preparation Time: 20
Serves: 6
---
Ingredients:
2 cups walnuts, soaked and dried in a dehydrator
1 cup dates, soaked for a couple of hours
3 bananas, peeled and frozen for 3-4 hours
1-1.5 cups mulberries (Morus Alba)
Blend walnuts and dates together in a food processor until the mixture is finely chopped and becomes sticky. Transfer the mixture into a 7" removable bottom cake pan and press with your fingers into the bottom and sides to make the crust. Blend frozen bananas in a food processor (or feed them through the Champion juicer with the solid plate installed) until they become smooth and resemble ice-cream in consistency. Place on top of the crust and level off with a spoon. Place mulberries on top of the cake. Remove the mold and serve at once. Note: Preparation time is 20 minutes plus soaking, dehydrating and freezing time.
Ingredients: banana, dates, mulberries, walnut
Recipe Type: Dessert