Strawberry Banana Cake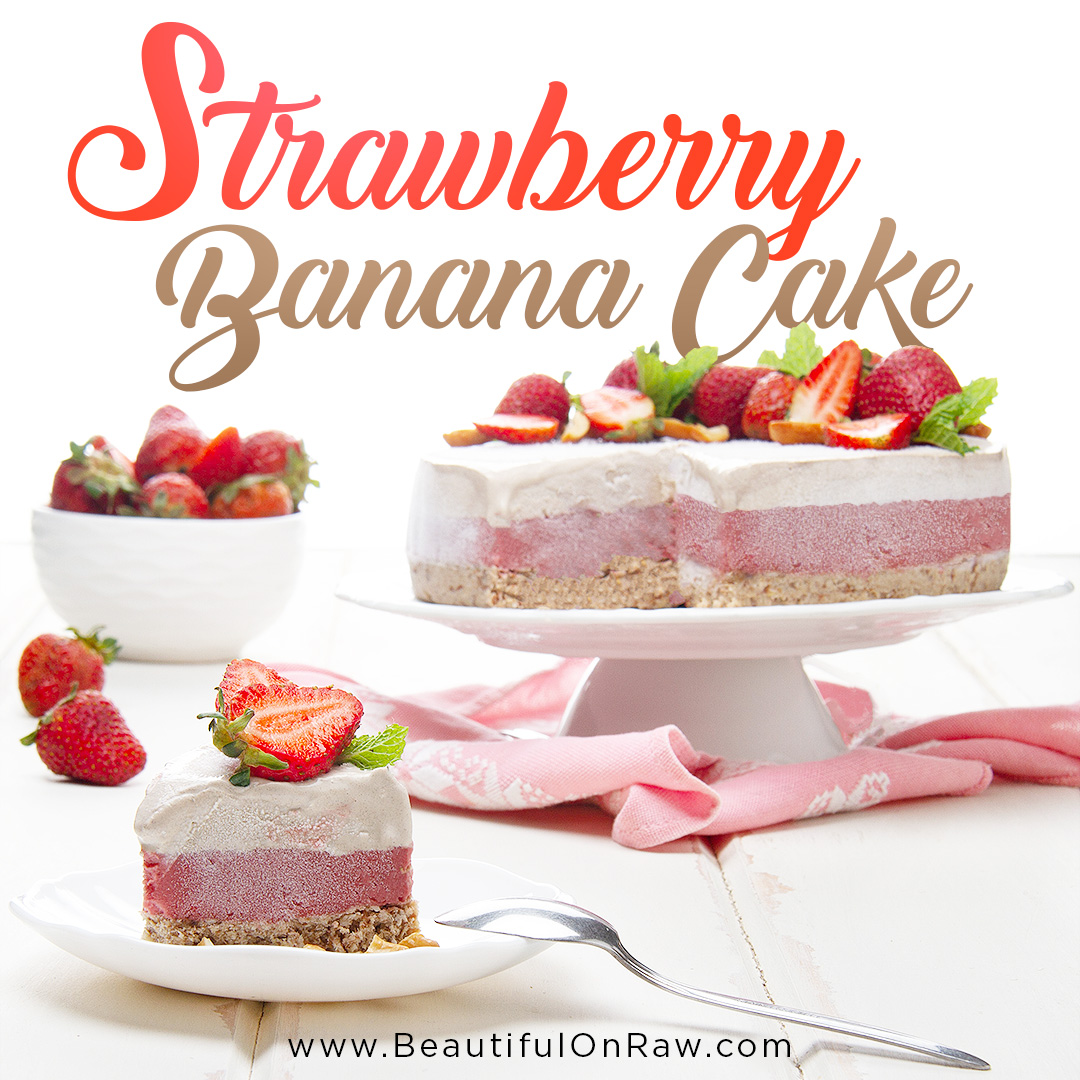 This easy-to-make, no-bake, no-guilt cake is both delicious and highly nutritious.
Recipe Author: Beautiful on Raw
Preparation Time: 30 min
Serves: 6
---
Ingredients for the crust:
¾ cup coconut flour
1 cup oatmeal
1 cup raisins
Ingredients for the filling
Pink layer:
1 cup cashews
½ cup coconut milk
2 bananas
2 cups of fresh or frozen strawberries
4 Tbsp raw honey
White layer:
1 cup cashews
4 bananas
1 Tbsp lime juice
Banana and sliced ​​strawberries to decorate.
Instructions:
The Crust:
Soak the raisins overnight in the fridge, covered. Do the same with the cashews. Drain excess water from the raisins and cashews. Divide the cashews, one cup for the pink layer, and another cup for the white layer. Place the raisins in a food processor and process until all raisins are crushed.
Pour the crushed raisins into a mixing bowl. Add the coconut flour and oatmeal. Knead until a homogeneous consistency is obtained. This mass should not easily stick to your hands. If it's too sticky, add an extra tablespoon of oatmeal If it's too dry, add a tablespoon of water.
Line an 8-inch non-stick springform cake pan with parchment paper. Add the crust mixture and press with your fingers. Chill in the freezer for 30 minutes.
Pink layer:
Place the ingredients for this layer into the blender. Blend until the mixture is completely homogeneous. You may need a little extra honey to taste. Pour this mixture into the springform, onto the crust, which should already be cold and firm. Return the form to the freezer for another 30 minutes or until the strawberry layer is firm.
White layer:
Place the ingredients for this layer into the blender. Pour the mixture of the second layer on top of the cake. Chill the cake in the freezer for at least three more hours. When it is completely firm, remove from the mould, and decorate with strawberries, cashews, and mint leaves.
 
Ingredients: raisins, cashew, coconut, banana, strawberry
Recipe Type: Dessert