Asian Soup with Goji and Mint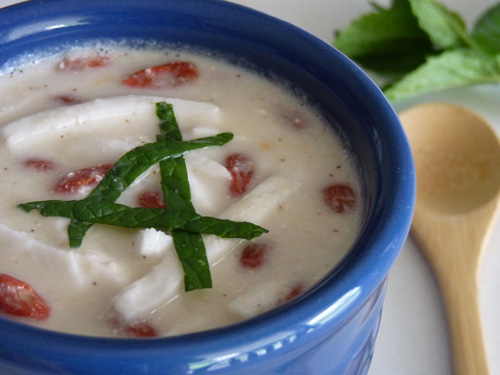 Refreshing soup based on electrolyte-rich coconut water. Lemongrass, goji, and coconut flesh "noodles" are added for texture and flavor.
Recipe Author: Beautiful on Raw
Preparation Time: 20
Serves: 2
---
Ingredients:
water of 1 Thai coconut (about 1 ½ cups)
1/3 – 1/2 cup cashews, soaked for a few hours
2 tsp. lemongrass, chopped, outer fibrous layer removed
2 tsp. fresh lemon juice
¼ tsp. Chinese Five Spice (or a combination of anise, cinnamon, star anise, cloves and ginger)
"meat" of 1 Thai coconut, cut into thin long strings
1/8 cup dried goji berries, soaked for 30 min. and drained
a few mint leaves
To make a soup base, combine coconut water, cashews, lemongrass, lemon juice and Chinese Five Spice in a blender, and process on high. Pour the mixture into a bowl, add goji berries and coconut meat. Garnish with mint leaves when serving.
Preparation time:
20 min. plus soaking time
Ingredients: cashew, coconut, Goji berry, lemon, lemongrass, mint
Recipe Type: Soup