Raw Pumpkin Soup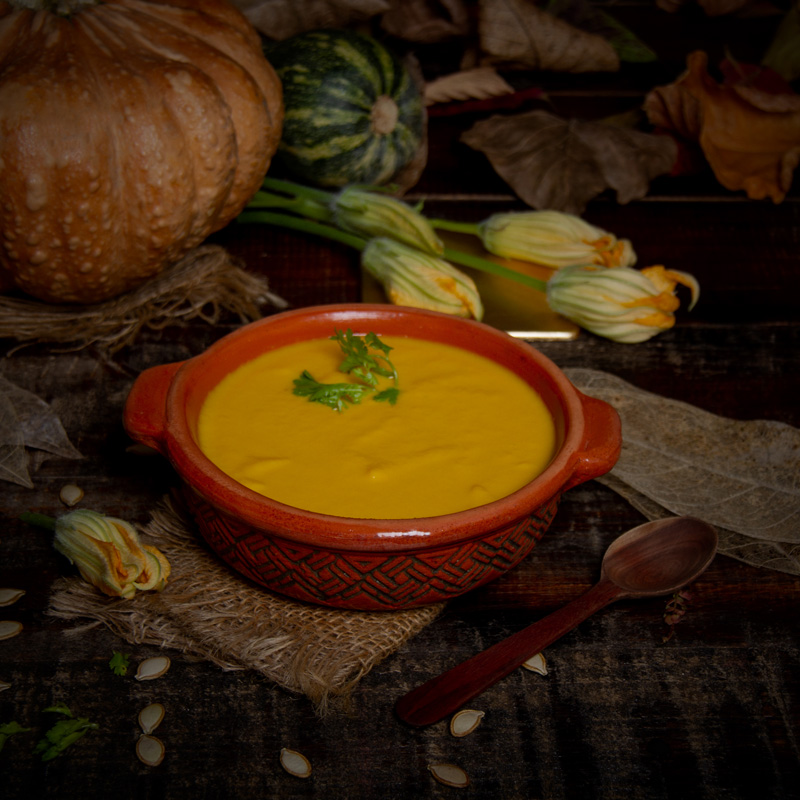 We have a lot to be grateful for. Not the least, our bodies with their amazing ability to heal, rejuvenate, and restore, even with all the bad eating and other abuse we put it through.
This holiday season, help your body stand strong against all viruses and infection. Keep your immune system in top form.
Keep it simple this Thanksgiving. Don't overdo those heavy foods. Pumpkin is rich in potassium, beta carotene, and fiber. But cooking it degrades many of its nutrients. Try this raw pumpkin cream, enjoy its nuances of flavor and color, with vitamins and nutrients you get only from nature. For some extra flavor notes, we'll add tangerine juice. If you don't have tangerines available, you can substitute oranges.
Recipe Author: Beautiful on Raw
Preparation Time: 10 min
Serves: 4
---
Ingredients:
6 cups pumpkin
1 cup cashews
1 cup tangerine juice
2 cups coconut milk
1 Tbsp of nutritional yeast
1-inch slice of fresh ginger
1-inch piece fresh turmeric
pumpkin seeds for garnish (optional)
salt to taste
Instructions:
Soak cashews overnight. Cut the pumpkin in two. With a spoon, scoop out the filling and seeds. Peel the pumpkin. Then cut it into small cubes about an inch on a side. Combine the cashew nuts, coconut milk, tangerine juice, nutritional yeast, ginger, and turmeric in the blender. Blend for two to three minutes. Then add, little by little, the chopped pumpkin pieces. Blend until you get a velvety-smooth texture. Serve the soup in shallow bowls. Garnish with pumpkin seeds or a little chopped cilantro.
Ingredients: pumpkin, pumpkin seeds, cashew, coconut milk, ginger root, turmeric
Recipe Type: Soup