Mushroom Onion Soup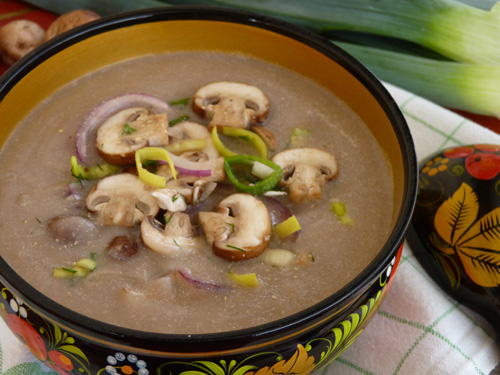 If you want to feel more grounded and nourished after a meal, look no further than mushrooms with their earthly flavor combined onions. They pair well with onions and leeks in this creamy warm winter soup.
Recipe Author: Beautiful on Raw
Preparation Time: 30 min.
Serves: 2
---
Ingredients:
¾ cup water of young Thai coconut
1 cup jicama, peeled and cubed
1/3 cup white coconut meat
1/3 to 1/2 banana, peeled and sliced (optional)
1 cup plus ½ cup baby bella or white mushrooms, sliced
1/3 cup leeks, thinly sliced
1/3 cup red onions, peeled and thinly sliced
2 Tbsp. plus 2 tsp. fresh lemon juice
dash ground white pepper
2 cloves garlic, peeled and chopped
¼ tsp. Celtic sea salt
1 Tbs. fresh dill, finely chopped
Directions:
Marinate 1 cup of sliced mushrooms, leeks, red onions and chopped dill in 2 Tbs. of lemon juice mixed with salt. Leave it in a bowl on a kitchen counter for 15-30 min. Meanwhile, prepare soup base by combining the rest of the ingredients in a blender and processing them until creamy. For a warm soup, run your high-power blender a little longer, until the soup feels warm to the touch. You can also warm it lightly on the stove top, if your blender doesn't warm food. Pour the mixture over the marinated mushrooms and onions placed in a serving bowl, garnish with dill and ground pepper, or with some of the marinated mix. Serve at once.
Ingredients: coconut, jicama, coconut meat, banana, baby bella, white mushroom, leek, red onion, lemon juice, white pepper, garlic, sea salt, dill
Recipe Type: Soup