Savory Okra Tomato Soup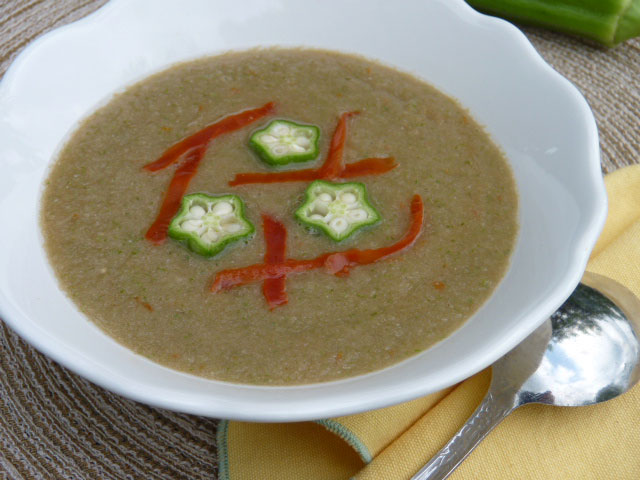 Don't pass fresh okra at the farmer's market thinking that it belongs only in your past: why not enjoy it raw? Here's one way to do it: blend it to make soup.  This light soup with okra and tomatoes is quick to prepare and makes a perfect meal on a hot summer day.
Recipe Author: Beautiful on Raw
Preparation Time: 15
Serves: 2
---
Ingredients:
2 cups fresh okra, cut into small pieces
1 cup water
1 cup tomato, cut into chunks pieces
2 garlic cloves, minced
1 tsp. fresh oregano leaves, minced
½ tsp. Celtic sea salt
pinch of ground white pepper (or you can use black pepper)
3 tsp. lime juice
red bell pepper, okra and tomato pieces to add to the blended soup and for decoration (optional)
Place okra, tomatoes, water, garlic, oregano, salt, pepper, and lime juice into a high-speed blender, and process until well mixed. If you prefer a chunky soup, chop bell pepper, okra, and tomato and place in the soup bowl, pour the mixture over it, and decorate with some veggie pieces.
Ingredients: garlic, lime, okra, oregano, sweet pepper, tomato
Recipe Type: Soup