Berries Cream 'n Crumbs Dessert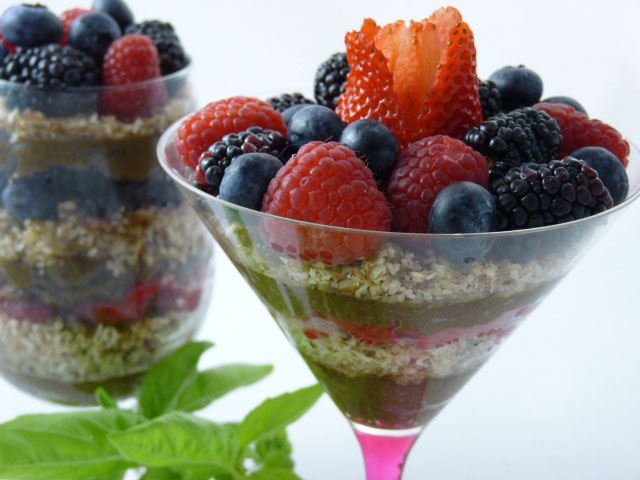 The refreshing taste of berries and the texture of crumbs and cream go well together in this summer layered dessert. Works great as a special occasion treat.
Recipe Author: Beautiful on Raw
Preparation Time: 40
Serves: 4
---
Ingredients:
1/2 cup filberts, soaked overnight, then dried in a dehydrator
1/2 cup unsweetened shredded coconut
pinch Celtic sea salt
12 Medjool dates, pre-soaked, pitted, and finely chopped
2 avocados (3 if not using coconut butter), peeled, pitted and chopped
½ cup raw carob powder
¼ cup water left from soaking the dates
¼ cup coconut butter (optional)
1-2 cups fresh berries of your choice (strawberries, blueberries, raspberries, blackberries, etc.)
For the crumbs, grind filberts in a food processor until they reach the consistency of bread crumbs. Add shredded coconut, salt, four chopped dates and process again until everything is mixed and chopped well without sticking together. Transfer to a bowl. Wash the food processor. For the cream, place avocados, eight dates, carob powder, water, and coconut butter in the food processor, and blend well to a creamy consistency. Arrange the crumbs, cream and berries in layers in individual glasses or small glass bowls. Press each layer down with a spoon, fingers or pestle. Top with fruit for a colorful presentation. Enjoy! Note: Preparation time is 40 minutes plus soaking and drying time.
Ingredients: avocado, blueberry, carob powder, coconut, dates, filberts, strawberry
Recipe Type: Dessert