Raw Chocolate and Chia Seed Pudding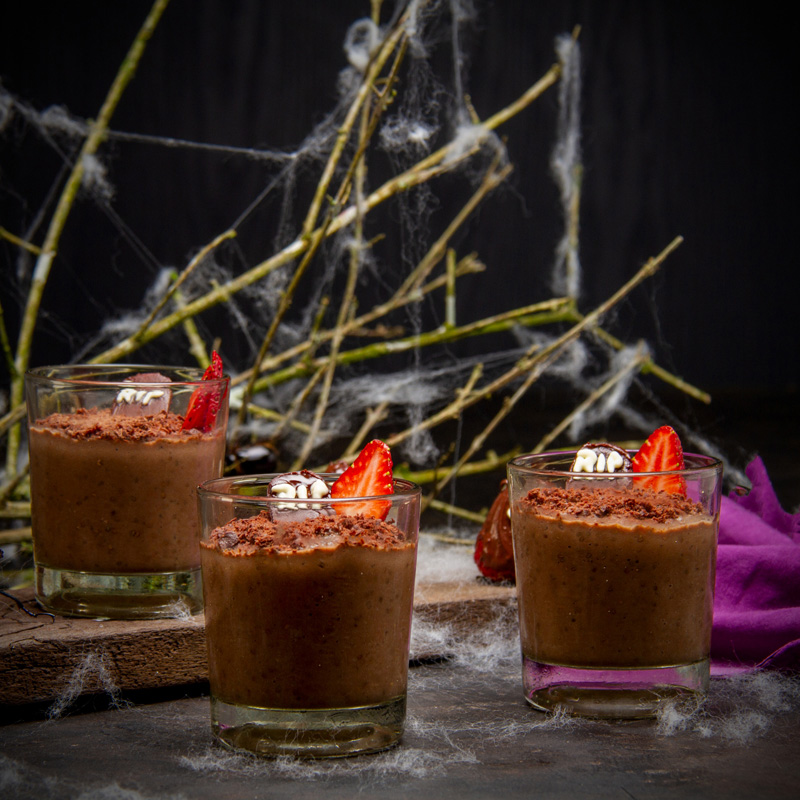 This year Halloween will be different. Most folks will be staying home. But you can still bring some excitement to your kids and grandkids, decorating your table for the occasion and treating your loved ones with a healthy dessert. Cooked pudding type desserts are made with corn starch and gelatin. We definitely don't want to use those. So, what's the answer?
Chia seeds to the rescue! They're perfect for this kind of raw dessert. When hydrated, they lend firmness and a gelatinous consistency to your dessert. To add consistency, we'll use banana puree. You could also use avocado puree or even coconut butter. Any and all of these will work well.
Recipe Author: Beautiful on Raw
Preparation Time: 10
Serves: 2
---
Ingredients:
3 bananas
3 tsp of cocoa powder (or raw chocolate)
½ cup almonds, soaked
2 Tbsp raw honey (or agave syrup)
1 tsp ground cinnamon
1 cup of coconut milk or almond milk
2 Tbsp of chia seeds
1 Tbsp of raw chocolate, grated
Instructions:
Soak almonds overnight. Peel off the skin. Peel bananas cut them into large pieces, and place them in the blender glass. Blend them until they become purée. You can add a few drops of lemon to prevent them from turning dark.
Add the cocoa powder, soaked and peeled almonds, raw honey, cinnamon, and coconut milk. Blend until smooth and homogeneous—about three minutes.
Pour the chocolate banana mixture into a bowl. Add the chia seeds and blend with a hand mixer until they are integrated into the cream. Divide the mixture into two glasses and leave in the fridge at least two hours. If desired, add a garnish of fruit or grated raw chocolate on top.
The headstones in the photo were made from raw chocolate and almond butter. Happy Halloween!
 
Ingredients:
Recipe Type: Dessert