Berry Sesame Porridge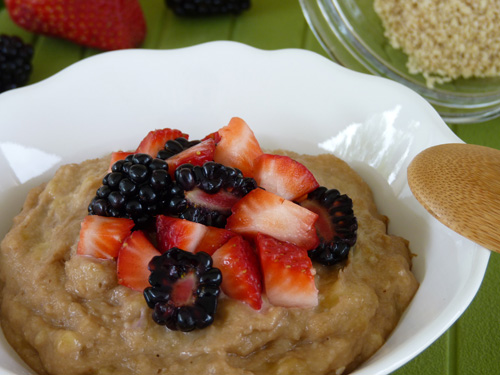 Here's a quick, tasty, and filling meal starring sesame seeds—an excellent source of calcium. Grind up your sesame seeds for better assimilation. You can also try ground flax seeds as a substitute. Listen to your body: it will tell you exactly which seeds would be most beneficial for you at the moment. You can use any kind of berries or fruits in season for your porridge.
Recipe Author: Beautiful on Raw
Preparation Time: 5
Serves: 2
---
Ingredients: ·       ½ cup sesame seeds ·       2 ripe bananas, peeled ·       ½ cup blackberries ·       4-5 strawberries, chopped Grind the sesame seeds in a coffee grinder, and pour them into a bowl. Add the bananas and mash with a fork until well mixed and mashed. Gently fold in strawberries and blackberries and you're ready to serve!
Ingredients: banana, blackberry, sesame, strawberry
Recipe Type: Main Course