Pumpkin Ramen Noodles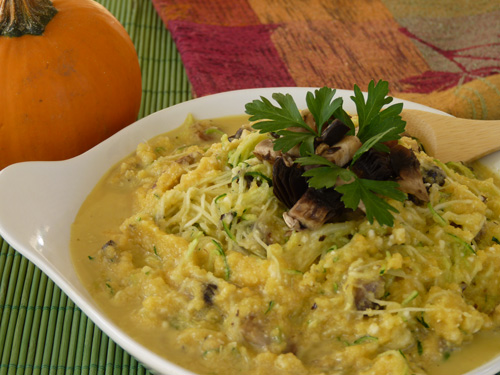 Pumpkins are everywhere this time of the year. Start including this nutrient dense "fruit" in your recipes: one pumpkin can go a long way in raw cuisine. Ever miss the "Ramen Noodles" from your dorm-room days? Give these raw and infinitely-more-good for you Pumpkin Ramen Noodles a shot!
Recipe Author: Beautiful on Raw
Preparation Time: 20
Serves: 2
---
Ingredients:
1 medium zucchini, spiralized into noodles
2 cups pumpkin, peeled and cubed
2 tbs. pine nuts
½ cup coconut water
2 Tbs. coconut meat
2 tsp. raw honey
¼ tsp. Himalayan pink salt
2 garlic cloves, peeled and chopped
¼ tsp. Italian Seasoning (oregano, marjoram, thyme, rosemary, basil, sage)
1 cup of the mushrooms of your choice, chopped
Juice of ½ lemon
Pour lemon juice over the mushrooms, stir, and let mushrooms marinate for 10-15 min. Place the rest of the ingredients, except the zucchini, in a blender, and blend until the mixture is of a thick sauce consistency. Fold mushrooms into the bowl filled with zucchini noodles, add pumpkin sauce, and gently mix together. The "ramen noodles" bowl is ready.
Ingredients: coconut, pine nuts, pumpkin, raw honey, zucchini
Recipe Type: Main Course