Chili Lime Veggie Chips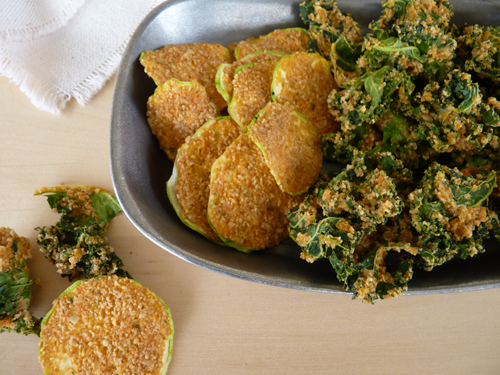 When you want some punch with your crunch, make a bunch of these chips. And you needn't feel guilty munching on these!
Recipe Author: Beautiful on Raw
Preparation Time: 15 min. plus soaking and dehydrating time.
Serves: 1 or 2.
---
Ingredients:
1 cup sunflower seeds, soaked overnight, drained and dehydrated
½ cup cucumber, cut into pieces
1 cup tomato, cut into pieces
½ lime, peeled and cut into pieces
1 inch piece of Jalapeno pepper, seeds removed
½ tsp. Celtic sea salt, or to taste
½ of zucchini, thinly sliced
a few leaves of kale, stems removed, and leaves torn into chip-size pieces
Directions:
Grind sunflower seeds in a food processor. Add the rest of the ingredients, except for zucchini and kale, and blend till the mixture turns creamy and slightly grainy. Adjust to your taste, adding lime, pepper, or salt.
Spread a thin layer of the mixture on each piece of zucchini, using a butter knife. For kale, place kale pieces into the bowl with the mixture. Using your hand, mix together until all the kale pieces are partially coated with the mixture.
Arrange coated vegetables on dehydrator sheets on trays. Dehydrate 12-16 hours at 105 F. Turn the chips and place them directly on the mesh trays after a few hours. Test from time to time—your chips are ready when you decide they are!
Ingredients: sunflower seeds, cucumber, tomato, lime, Jalapeno pepper, sea salt, zucchini, leaves of kale
Recipe Type: Snack