Raw Hungarian Letcho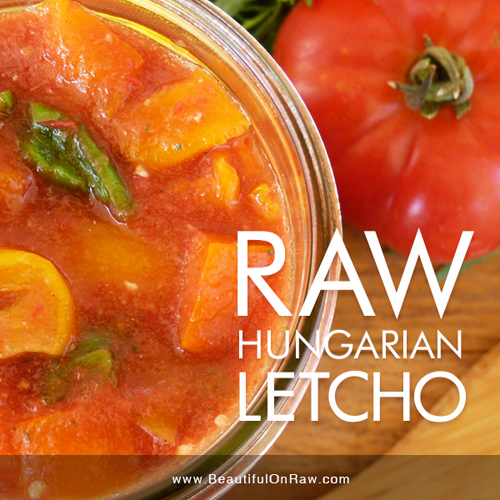 This traditional Hungarian recipe is usually prepared in Eastern Europe using the stove, then canned and eaten during the winter months. Even if you don't cook it, as in the recipe below, you can still enjoy the flavorful peppers in tomato sauce with a hint of herbs and garlic.
Recipe Author: Beautiful on Raw
Preparation Time: 20 minutes, plus time for dehydrating peppers.
Serves: makes about 3 to 4 cups.
---
Ingredients:
3 big bell peppers: green, orange, yellow, seeds removed, and cut into ½-inch pieces
1 tsp. Celtic sea salt, divided
1 Tbsp. fresh lemon juice
3 cups ripe red tomatoes, cut into pieces
¼ cup fresh orange juice
1 clove garlic, peeled and chopped
1 tsp. fresh marjoram leaves
½ tsp. ground cinnamon.
Directions:
In a bowl, sprinkle peppers with lemon juice and ½ tsp. salt. Mix well, with clean hands, to have them all covered. Spread the peppers on parchment paper in a dehydrator at 105 F for 4-5 hours to allow peppers to wilt a bit in order to create a cooked effect.
To make a sauce for peppers, combine tomatoes, orange juice, garlic, marjoram, cinnamon and ½ tsp. salt in a blender, and blend well. Adjust salt, sweetness and spices at this point. When peppers look a little wilted, place them in a glass jar, pour the sauce on top, mix with a spoon, cover the jar, and store in the refrigerator until ready to serve. Letcho can be served warm, if desired, by warming it on the stove top to body temperature. Use as a side dish, as a garnish, or add to salads. Consume within a few days.
Options: Vary the letcho recipe by adding cut-up cucumbers or onions to the peppers, or change the flavor of the sauce by adding ground cayenne pepper, horseradish, basil, parsley, thyme, cilantro, or any desired combination of these.
Ingredients: yellow bell pepper, sea salt, lemon juice, red tomatoes, orange juice, garlic, marjoram leaves, cinnamon