Watermelon Sweet Mint Soup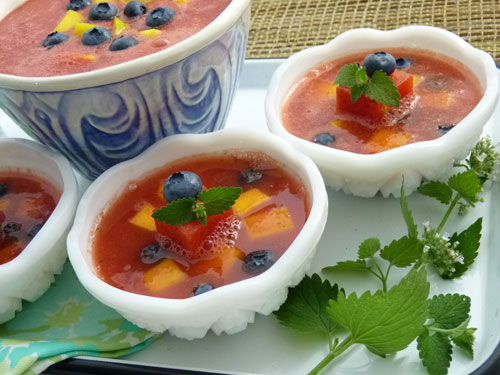 A quick refreshing sweet soup for those really hot summer days when nothing gives quite the satisfaction of light and juicy fruits.
Recipe Author: Beautiful on Raw
Preparation Time: 10
Serves: 6
---
Ingredients:
6 cups watermelon, peeled and cut into chunks
juice of 1 lemon
3-4 mint leaves
1 cup or more blueberries
1 mango, peeled, pit removed and cut into chunks
In a blender, combine the watermelon, lemon juice and mint leaves. Transfer to a bowl. Add cut mango and blueberries, and mix in. Serve in individual bowls. Cool in the refrigerator for a couple of hours before serving.
Ingredients: blueberry, lemon, mango, mint, watermelon