Coconut Walnut Hearts with Strawberry Sauce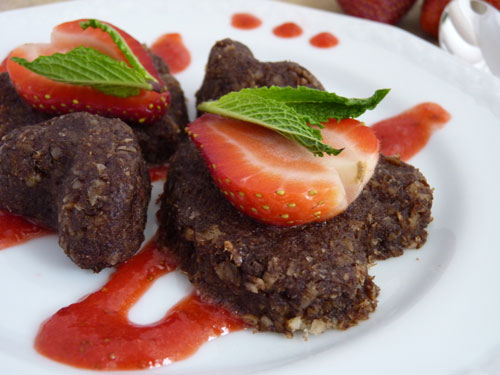 Here are some sweet treats to treat your sweets! Express your love with hearts and strawberries this Valentine's Day, and expect some heart melting, tension releasing and a lot of spoon clinking over the plates.
Recipe Author: Beautiful on Raw
Preparation Time: 30
Serves: 6
---
Ingredients for hearts:
2 cups walnuts, soaked for 4 hours
1 cup dates, pits removed and soaked for a few hours, water reserved
¾ cup unsweetened shredded coconut
¼ tsp. sea salt (optional)
seeds of 1 vanilla bean or 1 tsp. of vanilla extract
1/3 cup plus 2 Tbs. raw carob
½ cup soaking water left over from dates
Ingredients for sauce:
2 cups fresh or frozen strawberries, stems removed
2 Tbs. raw honey
You will also need a few strawberries and mint leaves for garnishing, and a heart-shaped cookie cutter or candy mold. Grind walnuts in a food processor until they resemble large crumbs, but a few larger pieces would still remain. Add the dates, and process some more, until well mixed. Add the rest of the ingredients, and continue mixing, occasionally helping to turn the dough over with a spatula. The dough will be sticky. Depending on the size of your cookie cutter, place a ball of dough on a nonstick sheet of the dehydrator tray, flatten into a patty with the back of a spoon, and then cut out a heart shape with a cookie cutter. Repeat with the rest of the dough. You can also use a heart-shaped candy mold to make the hearts. Dehydrate the hearts for 3 hours at 105 F, flip over and leave them in the dehydrator for another 1-2 hours. Prepare the sauce by blending strawberries and honey together in a blender or food processor. Slice strawberries into a few pieces, and place on top of the coconut walnut hearts, together with mint leaves, if using. Place the hearts on individual shallow serving plates, and serve drizzled with sauce. Note: Preparation time is 30 minutes plus time for soaking and dehydrating.
Ingredients: carob, coconut, dates, raw honey, strawberry, vanilla, walnut
Recipe Type: Dessert