Nutty Caramel Apples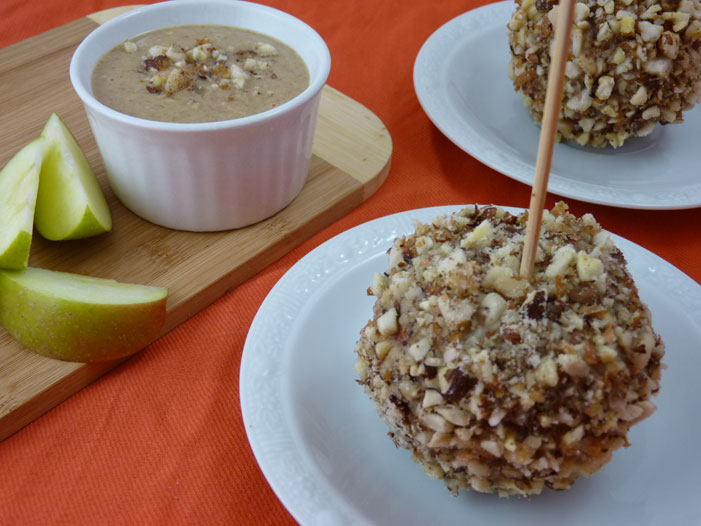 A perfect no-guilt treat just in time for Halloween, these caramel apples will appeal to both children and adults. You can never have too many caramel apples around, so be ready to make more. This tasty snack is easy to make and enjoy, even for those who are just starting out with raw foods.
Recipe Author: Beautiful on Raw
Preparation Time: 25
Serves: 5
---
Ingredients:
5 medium size apples, unblemished, any variety
1 cup Medjool dates, soaked, pits removed, and chopped
1/3 cup raw almond butter
pinch Celtic sea salt
1 tsp. vanilla extract
1 tsp. lemon juice
1 cup water, reserved from the soaked dates
1 cup peanuts and filberts, ground in food processor, or any other nuts of your choice
Place apples on skewers. In a blender, combine the rest of the ingredients, except for nuts, and blend until the mixture resembles caramel: smooth and sticky. Scrape the sides as you are blending, and add more water as needed. Transfer caramel sauce to a deep bowl. Dip apples into the sauce until they are completely covered, and roll on a plate with the chopped nuts. Use leftover caramel sauce as a dip for sliced apples. Note: Preparation time is 25 minutes plus time for soaking dates and nuts.
Ingredients: almond butter, apple, dates, filberts, lemon, peanuts, vanilla
Recipe Type: Dessert