Banana Cinnamon Rolls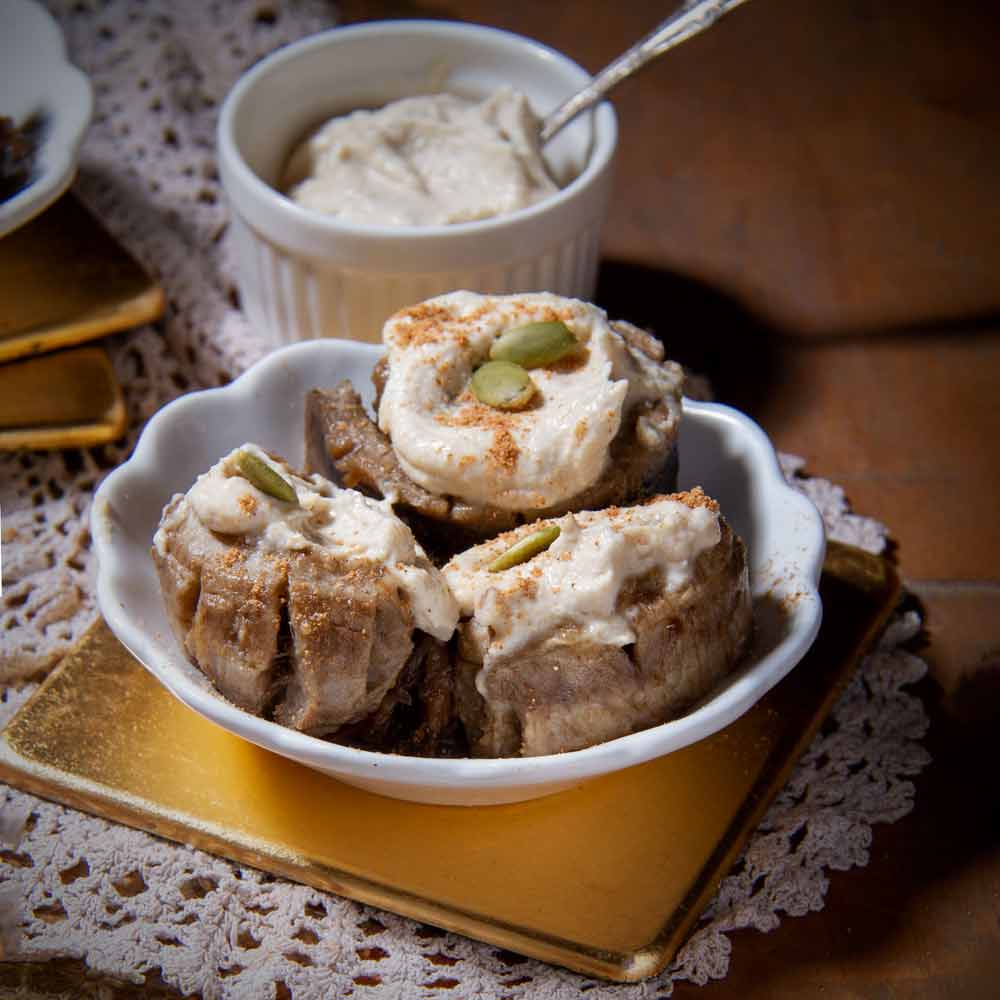 Here's the ultimate raw vegan twist on the classic cinnamon roll. Bread is replaced by banana slices, combined with a paste of dates, honey, and cinnamon. You can't forget icing! So, cover these with a delicious cream of cashews, pumpkin, and raw honey to celebrate the holiday season in style.
To make these banana rolls, we use dehydrated banana slices. Perhaps this recipe's only limitation is that you need a dehydrator. Your filling should be sweet, spicy, and sticky to keep the rolls firm. Putting them in the fridge for a couple of hours helps improve their firmness.
Recipe Author: Beautiful on Raw
Preparation Time: 20 min
Serves: 9 rolls
---
Ingredients:
For the rolls:
3 large bananas 
1 Tbsp of lime drops 
10 dates, seedless
1 Tbsp of honey
1 tsp of cinnamon powder
1 tsp vanilla extract

For the topping…
½ cup of soaked cashews
3 tablespoons of raw honey
½ cup pumpkin, peeled and cut into cubes.
Instructions:
Peel the bananas and cut each into three lengthwise slices. Sprinkle with a few drops of lime juice, and place on the dehydrator tray for a couple of hours (depending on your dehydrator). 
Meanwhile, chop the dates finely, then crush them in a mortar with a tablespoon of honey, vanilla essence, and cinnamon powder.
Remove the banana slices from the dehydrator, spread them with the date paste on one side, and roll them up. Place them in the fridge for about two hours. 
Before serving, prepare a white sauce by blending the soaked cashews, honey, and some pumpkin cubes. Serve the banana rolls covered with pumpkin sauce and sprinkle on a little cinnamon. Have one, and you'll wish you'd made two batches!
 
Ingredients: banana, dates, cinnamon
Recipe Type: Dessert