Cool Vegetable and Kvass Soup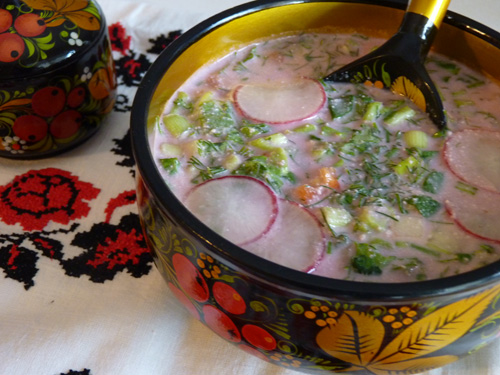 This unique take on the traditional Russian fermented drink – Kvass – will not only introduce you to a new flavor, but will also give you the benefits of fermented veggies: consuming them helps prevent the overgrowth of pathogenic bacteria in your colon while replenishing the friendly kind.
Recipe Author: Beautiful on Raw
Preparation Time: 30
Serves: 4
---
Ingredients for soup:
3 cups of prepared kvass (see below)
1/2 cup pine nuts
4 Medjool dates, pits removed
1-2 tsp. of lemon juice
¾  tsp. Celtic sea salt
pinch black pepper
2 red radishes, cut into thin circles
1 cup cucumber, cubed (peeled if non-organic)
½ cup red bell pepper, seeds removed and cubed
¼ cup green onions, chopped
¼ cup fresh dill, chopped
1 and ½ cups of watercress, loosely packed
1 avocado, peeled, skin removed, and cubed
How to Prepare the Kvass:
Start by juicing enough carrots, cucumbers, celery, and green apple to prepare about 1 quart of juice. Reserve the pulp for other recipes, and stir about ¼ cup lemon juice and ½ cup of raw sauerkraut into the fresh juice that you got, screw the lid on lightly, and leave the jar on the kitchen counter covered by a towel to ferment for 2-3 days. Once the white film made out of beneficial bacteria starts appearing on the surface of the juice, and the taste turns a little sour, the kvass is ready to make into soup (and you can drink the leftover!). Stir the kvass once again and strain off the raw sauerkraut.
How to Prepare the Soup:
Place 3 cups of kvass, pine nuts, dates, salt and pepper into the blender, and blend on high until all ingredients are broken down. You might need to adjust the amount of salt, lemon juice and dates to make the soup base taste tangy and to your liking. In a big bowl combine together the rest of the cut vegetables, add the soup base from the blender, stir once more, garnish with herbs, and serve. Note: Preparation time is 30 minutes plus time to make the kvass.
Ingredients: apple, avocado, carrot, celery, cucumber, dates, dill, lemon, pine nuts, red radish, sauerkraut, sweet pepper, watercress
Recipe Type: Soup