Day Lily Buds with Wood Sorrel Pesto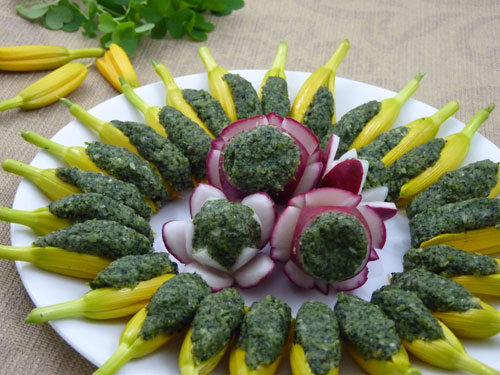 Don't we all love it when our food comes from our own backyard? On the menu today are highly nutritious wild edible plants: day lilies and wood sorrel.
Recipe Author: Beautiful on Raw
Preparation Time: 25
Serves: 6
---
Ingredients:
3 cups leaves and soft tops of wood sorrel
1 cup pine nuts, soaked for 30 min.
½ tsp. Celtic sea salt
2 cloves garlic, peeled and finely minced
35-40 unopened day lily buds
Rinse wood sorrel and place it together with nuts, salt and garlic in the food processor. Blend until the mix resembles a thick paste. If necessary, add a touch of water to achieve the desired paste consistency. Separate the petals of the lily buds a little, and place ½ tsp. of the pesto between or on top of the buds. Serve as an appetizer.
Ingredients: Day Lily, garlic, pine nuts, wood sorrel
Recipe Type: Main Course, Snack