Zucchini Pasta with Avocado Sauce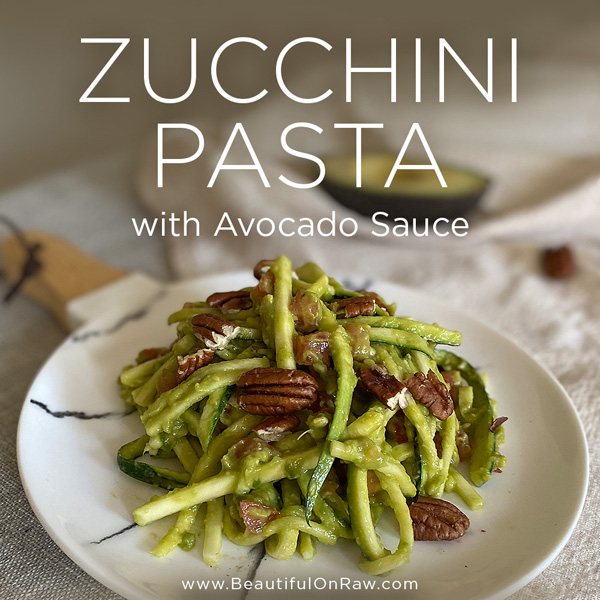 A creamy, fresh, rich dish for your family dinner or a healthy lunch.
Recipe Author: Beautiful on Raw
Preparation Time: 20 min
Serves: 2
---
Ingredients:
2 medium zucchini
1 big avocado
1 medium tomato
⅓ cup walnuts or pecans
fresh greens for serving
Avocado sauce:
1 tsp extra virgin olive oil
1 tsp lemon juice salt & pepper to taste
1 clove garlic
The best way to make noodles is using a spiralizer or vegetable peeler. If you don't have either of these gadgets, no worries. Just cut the zucchini into thin slices, then cut each slice into thin, long strips—your "noodles." Put these noodles in a bowl. Chop the tomato finely and add to the noodles.
Prepare the avocado sauce: Mash the avocado, add the lemon juice, olive oil, chopped garlic, and the salt and spices. Mix the sauce thoroughly. Add the sauce to the noodles and tomatoes. Mix gently. Chop the nuts. Plate the noodles, sprinkle the nuts on top, and add the mix of greens. Enjoy right away!
Ingredients: zucchini, avocado, tomato, baby greens, walnut
Recipe Type: Main Course