Luxurious Lasagna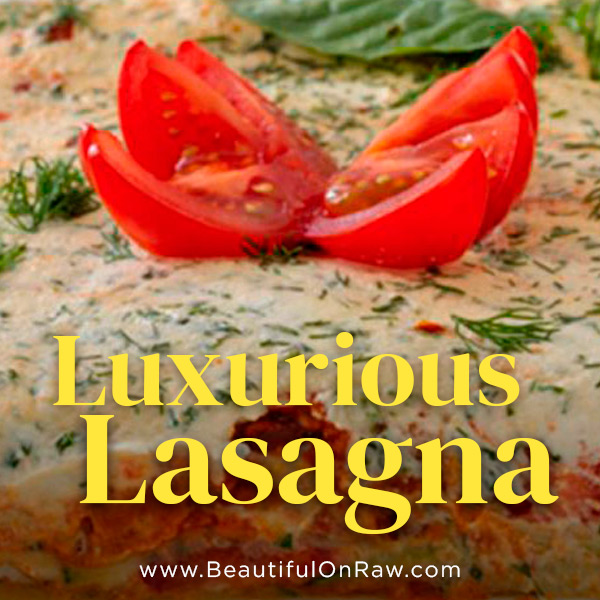 I am usually one for whipping up quick simple dishes, but whenever my son, Nick, visits I always ask him to make this amazing dish from my book Beautiful on Raw-UnCooked Creations. This dish has such a rich flavor, you will definitely remember it for a long time to come. 
Recipe Author: Beautiful on Raw
Preparation Time: 75
Serves: 4
---
Basil Macadamia "Ricotta":
2 cups raw "macadamia" cheese (cheese recipe available here)
3 Tablespoons lemon juice
2 cups packed basil leaves
sea salt to taste
Place all ingredients in a food processor and pulse a few times until thoroughly combined. Add a little water, as needed, and pulse until the mixture becomes fluffy. Place in a bowl, cover and set aside. Tomato Sauce:
2 cups sun-dried tomatoes, soaked for an hour and drained
1 medium ripe tomato, chopped
1-2 small onion, diced
2 Tablespoons lemon juice
1 Tablespoon raw honey
6 Tablespoons olive oil
sea salt to taste
pinch of Cayenne pepper
Place all ingredients in a blender 4and blend until smooth. Place the mixture in a bowl, cover and set aside. Lasagna:
3 medium zucchini, ends trimmed
2 medium ripe tomatoes
3 Tablespoons fresh parsley, finely chopped
3 Tablespoons fresh oregano, finely chopped
whole basil leaves to garnish
Shave zucchini lengthwise into very thin slices (best to use a mandolin slicer). Cut tomatoes in half, and then into thin slices. Line the bottom of a 9×13 inch baking dish with two layers of zucchini slices. Spread one third of the tomato sauce over it, and then top with one third of the ricotta. Cover with one third of the tomato slices. Sprinkle with oregano and parsley, using one tablespoon of each. Add another two layers of zucchini and repeat the layers of tomato sauce, ricotta, tomato slices, herbs and so on until you run out.  Garnish with the whole basil leaves.
Ingredients: basil, lemon, macadamia nuts, parsley, pine nuts, raw honey, sundried tomato, tomato, yellow onion, zucchini
Recipe Type: Main Course