Pesto Pockets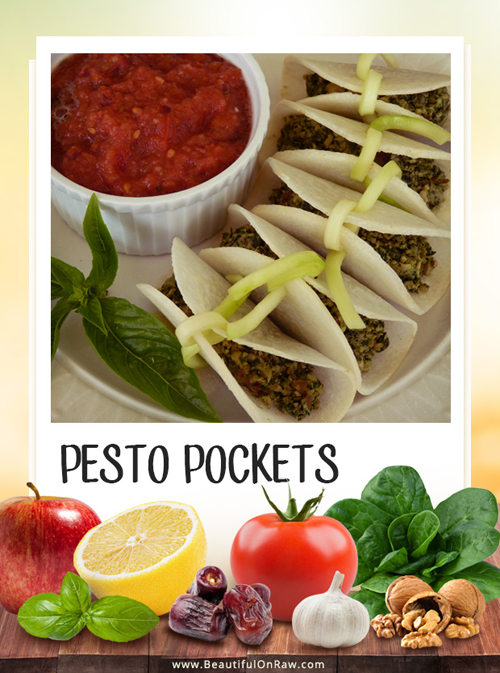 No dough in these pockets—Crunchy jicama takes on that role. Here's a great main dish, giving you lots of variation for both filling and sauce. Use your favorite recipes to substitute for one or both.
Recipe Author: Beautiful on Raw
Preparation Time: 30 minutes, plus time for soaking and dehydrating
Serves: Makes 13-15 pockets
---
Ingredients for pesto:
1 cup spinach leaves, tightly packed
1 cup basil leaves, tightly packed
1 cup walnuts, soaked overnight and dehydrated
1 Tbsp. fresh lemon juice
2 cloves garlic, peeled and chopped
½ tsp. Celtic sea salt (or to taste)
2 Medjool dates, soaked, pits removed, chopped
Ingredients for sauce:
2 medium tomatoes, chopped
1/3 cup dried tomatoes, cut into smaller pieces with scissors
1 apple, core removed, and chopped
¼ tsp. Celtic sea salt (or to taste)
1 tsp. dry Italian herbs, or other fresh herbs such as thyme, oregano, sage, marjoram
Ingredients for pockets:
half a medium size jicama, peeled and sliced on a mandolin slicer into ovals
1 small zucchini, spiralized into thick strands
Directions:
Prepare pesto by blending all the ingredients in a food processor. Transfer to a bowl and set aside. Place fresh tomatoes and apple into the food processor and blend. Add dried tomatoes, and let soak in the mixture for 10 minutes to soften. While waiting, slice the jicama and spiralize the zucchini. Add salt and herbs to the sauce in the food processor. Blend again, in pulse mode. The texture of the sauce will remain slightly chunky.
Using a plastic drinking straw, make holes in the jicama slices gently folded in half. Place 1 to 2 Tbsp. of pesto in the middle of each slice, and close the slice with the help of thick zucchini strand, to hold the pockets together. Arrange the pockets on a plate, add the sauce in a separate container, and serve.
Ingredients: spinach leaves, basil leaves, walnut, lemon juice, garlic, sea salt, Medjool date, tomato, dried tomato, apple, Italian herbs, jicama, zucchini
Recipe Type: Main Course