Falafel with Mango Sauce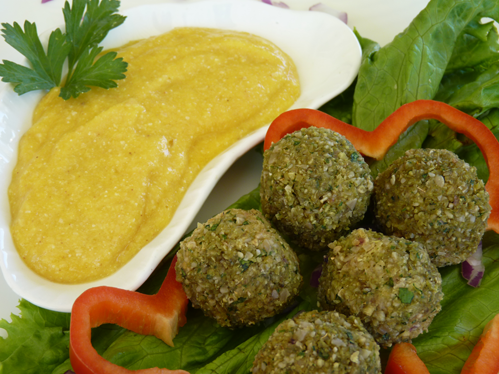 Serve this raw version of a famous Middle Eastern dish on lettuce leaves, or accompanied by a fresh salad or cut vegetables.
Recipe Author: Beautiful on Raw
Preparation Time: 30 min. plus time for soaking and dehydrating
Serves: makes about 17 walnut-size balls
---
Ingredients:
For falafel:
½ cup garbanzo beans, soaked overnight and sprouted for 12-24 hours
½ cup raw shelled sunflower seeds, soaked for a few hours and dehydrated
1/3 cup red onion, peeled and chopped
2 cloves garlic, peeled and chopped
1/3 cup parsley leaves, finely chopped
3 stalks celery, chopped
1 tsp. ground coriander
2 tsp. lemon juice
½ tsp Celtic sea salt
pinch black pepper
For sauce:
1 ripe mango, peeled, pit removed and cubed
3 Tbs. ground sesame seeds
1 Tbs. lemon juice
pinch Celtic sea salt
Directions:
Combine all falafel ingredients in a food processor, and blend well. Roll the mix into balls in the hands and dehydrate on Paraflex sheets in a dehydrator at 105 F for about 4 hours, until the falafel balls form a light crust, but remain soft inside. After 2 hours turn them over directly onto the dehydrator tray to allow for the underside to form the crust as well. While falafel is being dehydrated, make a sauce by blending its ingredients in a food processor. Transfer to a small bowl. When the falafel is ready, place falafel and sauce on the plate with lettuce leaves, and add a salad or cut veggies if desired.
Ingredients: garbanzo beans, sunflower seeds, red onion, garlic, parsley leaves, celery, coriander, lemon juice, sea salt, black pepper, mango, sesame seed
Recipe Type: Main Course