Stuffed Tomatoes with Pine Nuts and Lentils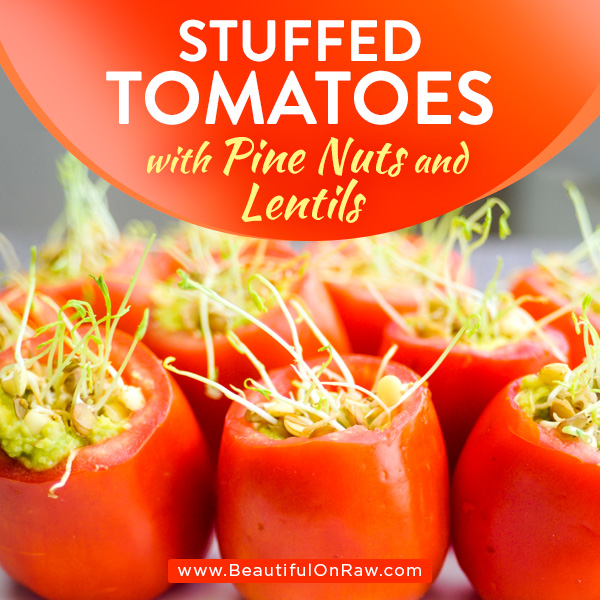 The bright, hardy flavors of tomato and avocado combine with pine nuts and the earthy goodness of sprouted lentils in this vibrantly delicious, original recipe.
Recipe Author: Beautiful On Raw
Preparation Time: 15 mins
Serves: 3 to 4
---
Ingredients:
ž8 medium tomatoes
ž1 cup sprouted lentils
ž1 medium avocado
ž1 Tbsp fresh lemon juice
ž4 Tbsp pine nuts (soaked overnight)
ž1/2 shallot, minced
1/2 small bunch parsley
žSalt to taste
Directions:
Sprout your lentils. Rinse the lentils and place in a jar. Add 3-4 cups of cold water, soak overnight. Drain and rinse, repeat every 12 hours. After 3-5 days, your sprouted lentils are ready to eat.
Remove the seeds and pulp of tomatoes using a teaspoon and set aside. Combine the avocado, lemon juice, nuts, shallot, parsley, and salt in a blender until smooth. Add more water if a desired.
Fill the tomatoes almost to the top with the avocado mix. Garnish with sprouted lentils. 
Ingredients: tomato, lentil, avocado, pine nuts
Recipe Type: Main Course