Whimsical Turkey 'n Stuffing Salad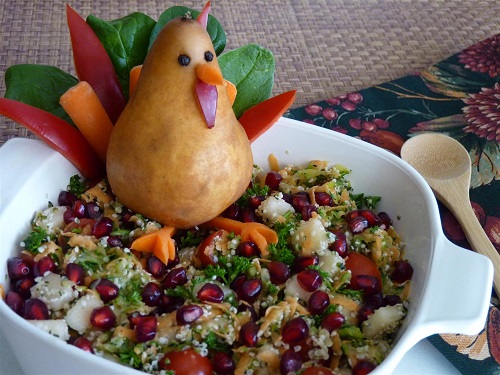 Who said that raw foodists don't eat turkey and stuffing for Thanksgiving? Surely they do. Here's what you get when you don't have expectations: the stuffing that won't cause a post-Thanksgiving meal nap, and the turkey that will make every guest, big and little, smile.
Recipe Author: Beautiful on Raw
Preparation Time: 25
Serves: 6
---
Ingredients:
¾ cup parsley leaves, finely chopped
1 cup cherry tomatoes, halved
1 ½ cup zucchini, grated, and excess juice drained
1 cup yams, peeled and grated (can use carrots)
½ cup hemp seeds
3 pears, peeled and cut into cubes
½ cup pomegranate seeds
½ tsp. Celtic sea salt or to taste
1 Tbs. fresh lemon juice
2-3 Tbs. olive oil (optional)
Ingredients for the turkey:
1 Pear
a few spinach leaves
3-4 small carrots
1 Red bell pepper
2 peppercorns
In a big bowl place hemp seeds and cubed pears and stir together until pears are coated with the seeds. Add the rest of the ingredients, and gently stir together with a spoon. Sprinkle with pomegranate seeds on top. Assemble the pear turkey (see photo) and land it on top of the stuffing or in a separate little bowl next to it.
Ingredients: carrot, hemp seeds, lemon, parsley, pear, pomegranate, spinach, sweet pepper, sweet potato, tomato, zucchini
Recipe Type: Main Course, Salad