Jerusalem Artichoke Salad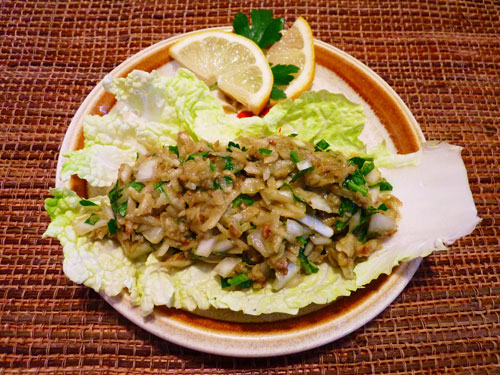 This salad tastes surprisingly like tuna salad, but without the tuna.
Recipe Author: Beautiful on Raw
Preparation Time: 15
Serves: 2
---
Ingredients:
1/2 cup yellow onion, finely chopped
1/2 cup parsley, finely chopped
2 cups Jerusalem artichokes/sunchokes, with skin, grated
2 Tbsp. extra virgin olive oil
1 avocado, mashed with a fork in a separate container
2 Tbsp. lemon juice
Celtic sea salt to taste
Combine all ingredients in a bowl, and toss well.  Serve on lettuce or Chinese cabbage leaves. Also delicious with raw crackers.
Ingredients: artichoke, avocado, parsley, yellow onion
Recipe Type: Salad