Shiitaki Lo Mein Zucchini Noodles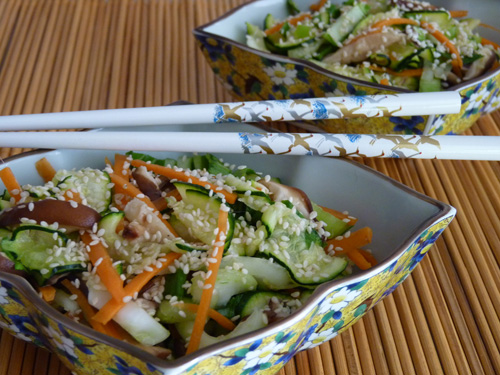 "Lo Mein" is translated from Chinese as "stirred noodles". These zucchini ribbon noodles are stirred alright, but don't expect them to look or taste like cooked. The analogy to the classical Chinese lo mein is created by the ginger flavor, sesame seeds, and taste and texture of shiitaki mushrooms.
Recipe Author: Beautiful on Raw
Preparation Time: 15
Serves: 4
---
Ingredients:
2 small-to-medium size zucchini, spiralized as ribbons or long strands
2 green onions (about 3 Tbs.), finely chopped
1 carrot (about 1 cup), cut into matchsticks or ribbons with the help of a vegetable peeler and/or knife
2 cups fresh shiitaki mushrooms, thinly sliced
2 cups Bok Choy, thinly sliced
2 tsp. ginger root, peeled and grated
½ tsp. Celtic sea salt or more to taste
2 tsp. fresh lemon juice or more to taste
1 tsp. or more unrefined sesame seed oil (optional)
In a big bowl combine shiitaki mushrooms with lemon juice, salt and oil (if using), mix well together and leave for half hour on the kitchen counter to marinate. Meanwhile, spiralize zucchini in the form you prefer (ribbons or strands) and set aside. Once the mushrooms are ready, combine them along with any liquid that has formed while they were marinating, with carrots, green onions, Bok Choy, and ginger, and gently fold into the zucchini noodles. Add more salt or lemon juice if necessary at this point. Let the dish sit for an hour or so in the refrigerator to allow the flavors to blend. Generously sprinkle with sesame seeds before serving. Note: Preparation time is 15 minutes plus marinating and chilling time.
Ingredients: bok choy, carrot, ginger root, green onion, lemon, mushrooms, zucchini
Recipe Type: Main Course, Salad