Sweetheart Raspberry Delight
Sweetheart Raspberry Delight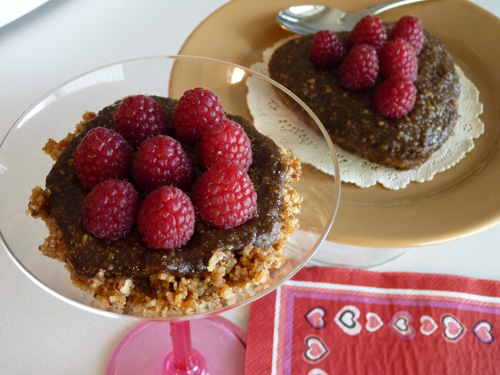 A perfect desert to share with your partner on Valentine's Day: sweet, filling and flavorful thanks to the fresh berries.
Recipe Servings: 2
Recipe Total Time: 20
Ingredients:
½ cup hazelnuts, soaked overnight and dehydrated
6 dried figs, soaked for a few hours, drained and chopped
2 ripe bananas, peeled
¼ cup golden flax seeds, ground into a powder
1 Tbs. raw carob powder
½ tsp. vanilla extract or ¼ tsp. vanilla powder
½ cup fresh raspberries
Place hazelnuts in a food processor with an S blade and process until they are finely ground. Add the figs and process until the mixture begins to stick together. Transfer to a bowl. Place bananas, carob, flaxseed and vanilla in a food processor and blend together until very smooth and creamy. Serve the desert either layered in a tall glass and topped with raspberries, or, if you have a small heart-shaped pan with a removable bottom, then place the nut layer first quite tightly, followed by the banana layer. Place in a freezer for an hour for the top layer to solidify a little, remove the dessert from the pan, place on a serving plate and top with raspberries. Share with your loved one!
Note: Preparation time is 20 minutes plus time for soaking and dehydrating