Sour Cabbage Soup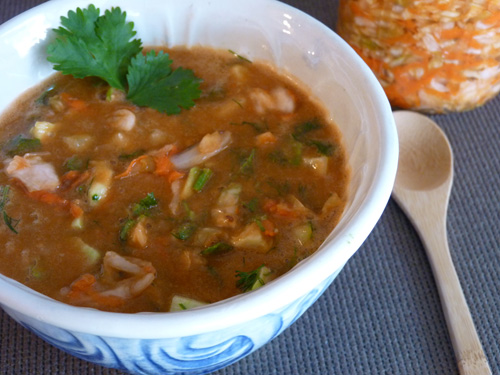 In my blog article, Cultured Foods, I discussed the many benefits of fermented foods. Here is a recipe to start incorporating fermented veggies into your diet. This very satisfying soup is chock full of probiotics, is quite easy to prepare, and keeps well to boot!
Recipe Author: Beautiful on Raw
Preparation Time: 35
Serves: 2
---
Ingredients: For juice (to make 2.5 cups):
3 big carrots
3 stalks celery
1 cucumber
half of lemon, peeled
For soup base:
2 ½ cups of freshly prepared juice
3 heaping Tbs. of fermented cabbage and carrots
3 Medjool dates, pits removed
¾ tsp. of Celtic sea salt, or to taste
For soup:
1 avocado, peeled, pit removed, and cubed
1 green onion, chopped
1 cucumber, cubed
3 -4 heaping Tbs. fermented cabbage and carrots
1 clove garlic, peeled and minced
1-2 leaves of Swiss Chard, without stems, cut into thin strips
1/3 cup dill, chopped
1/3 cup parsley, chopped
1/3 cup cilantro, chopped
dash of black pepper
In a blender combine all the "soup base" ingredients and blend on high. Taste the soup base and adjust the salt accordingly, until it tastes savory and delicious on its own. In a deep bowl combine all the chopped soup ingredients, and mix together. Pour the soup base on top of the mix, and gently stir to combine. Serve right away, or chill in the refrigerator for an hour or so to allow the flavors to blend. Note: Preparation time is 35 minutes plus time for making fermented vegetables.
Ingredients: avocado, carrot, celery, cilantro, cucumber, dill, fermented veggies, garlic, green onion, lemon, parsley, swiss chard
Recipe Type: Soup