Overnight Oats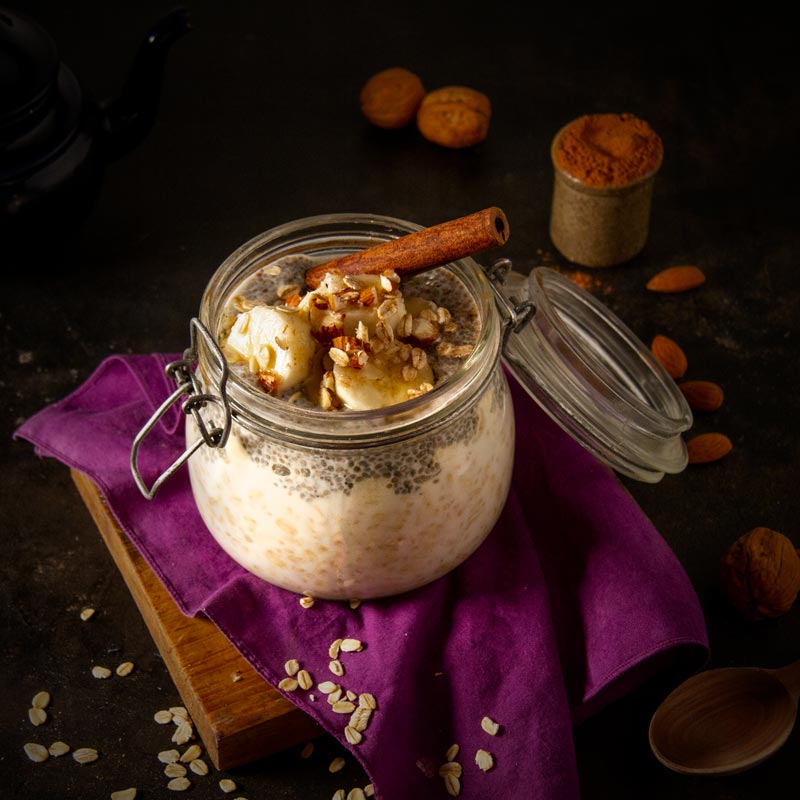 Former fans of cooked oatmeal…there's hope for you yet! This crock of overnight oats is a delicious breakfast you can set up the night before. When you wake, you'll have a rich breakfast, already prepped for you in the fridge. Beyond being raw, vegan, and oh-so healthy, it's really easy to make. Here's all you need: two glass cups…about a half-dozen ingredients…and just minutes to prep it!
 
Recipe Author: Beautiful on Raw
Preparation Time: 5 min
Serves: 2
---
Ingredients:
 ½ cup rolled oats   
 ¼ cup chia seeds     
1 cup coconut milk   
1 banana
2 tablespoons of raw honey
1 tsp of vanilla extract
Chopped walnuts, almonds or hazelnuts
Instructions:
Pour the coconut milk into a small mixing bowl. Add the honey and stir till dissolved. Add the vanilla extract. Stir again. Choose two lidded jars or small crocks for your overnight oats. Divide the oatmeal into two equal parts and place in the jars.
Repeat with the chia seeds, placing these atop the oatmeal. Fill with coconut milk until the chia is fully covered. Put lids on the jars, refrigerating overnight.
Next morning, remove from the fridge and uncover. Stir. Top with chopped bananas, walnuts, and honey. Add berries or fruits to taste. Your overnight oats can be kept, refrigerated, up to two days.  
Ingredients: oats, chia seeds, coconut milk, banana
Recipe Type: Breakfast