Strawberry Love Cake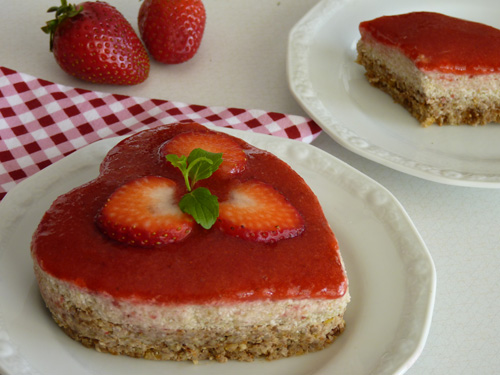 Inspired by the Russian raw food chef Anastasia, who figured out that sprouted buckwheat works great in raw vegan cakes, this recipe takes some pre-planning, but every step can still be taken with love, resulting in a delicious taste and a delightful presentation.
Recipe Author: Beautiful on Raw
Preparation Time: 30
Serves: 4
---
Ingredients:
Crust:
1 cup pecans, soaked overnight and dehydrated
1 cup sprouted buckwheat groats
lemon zest from 1 lemon, finely grated
¾ cup dried figs, soaked for a couple of hours, drained and chopped
1 Tbs. raw honey
2-3 tsp. fresh lemon juice
Filling:
2 cups sprouted buckwheat groats
4 Tbs. raw honey
1 Tbs. fresh lemon juice
1 ½ Tbs. psyllium husk
Topping:
1 ½ cups fresh strawberries, stems removed
1 Tbs. raw honey
Soak 1 ½ cups of raw (untoasted) buckwheat in water for 3-4 hours, then drain, and leave on the kitchen counter in the sieve to drain. Rinse 2-3 times a day and let the buckwheat remain in the sieve to drain. In a couple of days small white sprouts will emerge, and the buckwheat will be ready to use. Place all crust ingredients in a food processor, and blend until well crushed and blended. Adjust the taste. The mix should feel sticky when you squeeze it.  Transfer to 4 individual round or heart-shaped small pans, or to 1 large pan with a removable bottom. Press to about ½ in. to make the crust – the first layer of the cake. Next, blend all the filling ingredients using the food processor once again. The mixture will be an off-white color and quite homogenous in texture and not runny. If too runny, add more groats or psyllium husk and blend.   Adjust the taste by adding more honey for a sweeter taste or lemon juice for a more sour taste. Using a rubber spatula, arrange the filling as a second layer on top of the crust. Strawberries and honey blended together add a nice finishing touch to the cake. After blending, spread the strawberry layer on top of the filling using a rubber spatula, cover the cake form(s) with plastic, and place in the freezer for a few hours or overnight. A couple of hours before serving, take the cake(s) out of the freezer and the form(s), garnish with strawberries and mint, and serve. Note: Preparation time is 30 minutes
plus time for sprouting, soaking, dehydrating and freezing.
Ingredients: buckwheat, figs, lemon, pecans, psyllium husk, raw honey, strawberry
Recipe Type: Dessert