Potato Latkes with Coconut Cream Dip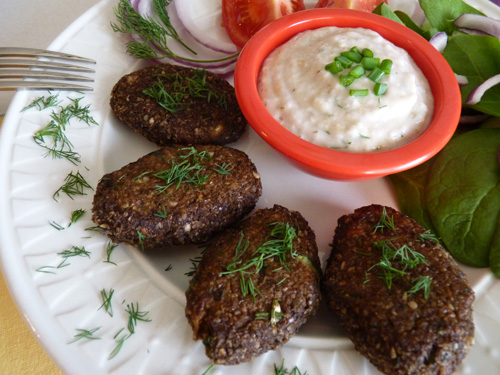 Along with juicing and using sunchokes in salads and soups, you can also incorporate them into "meat" balls, vegetable patties or latkes, like in the recipe below. The latkes make perfect non-messy finger foods, and can be used with a variety of dips or spreads.
Recipe Author: Beautiful on Raw
Preparation Time: 25
Serves: 4
---
Ingredients: For the potato latkes:
2 cups sunchokes (Jerusalem Artichokes), thoroughly scrubbed with a vegetable scrub brush and grated
1 cup sunflower seeds, soaked for a few hours and drained
3 Tbs. onions, chopped
a few cucumber slices, chopped
2 Tbs. parsley leaves, chopped
2 Tbs. ground flax seeds
1 tsp. Celtic sea salt
1 tsp. dry dill
pinch black pepper
pinch Cayenne pepper or to taste
a little water if necessary for easier blending
For the coconut cream dip:
meat of 1 young Thai coconut
1 Tbs. coconut water
1 tsp. fresh dill leaves, chopped
1/2 tsp. dry garlic powder
1/2 tsp. dry onion powder
pinch Celtic sea salt and pepper to taste
a few chopped chives or dill sprigs for garnishing
Combine all ingredients for the latkes in a food processor, and blend well. Add water if necessary to get the blades to "catch" the mix. Form the latkes, and place them in a dehydrator at 105-110 F, and dry for 6-7 hours, turning them over after 3 hours. They will remain relatively soft inside, while forming a crust outside. Serve with a salad as is, or with the coconut cream dip. To make the dip, blend the ingredients in a blender, and garnish with chopped chives. Note: Preparation time is 25 minutes plus time for soaking and dehydrating.
Ingredients: coconut, cucumber, dill, flax seeds, green onion, parsley, red onion, sunchoke, sunflower seeds
Recipe Type: Main Course