Fermented Cold Borscht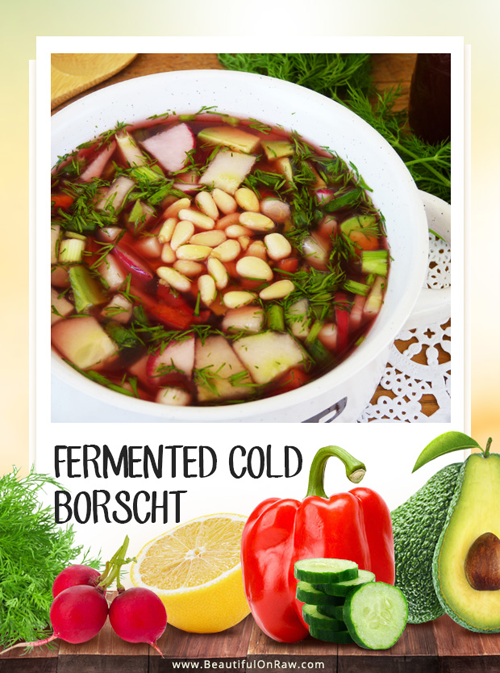 It's delicious! A lovely, rich, subtle flavor. And a great way to use the pulp left from vegetable juice.
Recipe Author: Beautiful on Raw
Preparation Time: 30 minutes plus time to make kvas
Serves: 2 to 4
---
Ingredients for beet "kvas":
2 to 3 cups of pulp left from making a vegetable juice, including several carrots, 1 beet, 1 apple and any other vegetables (cucumbers, zucchini, ginger, spinach, celery, etc.) you want to put in your juice
1.5 to 2 quarts of water.
Ingredients for borscht:
1 quart of beet "kvas"
2 Tbsp. raw honey (or a few pitted and soaked dates, if you prefer)
½ tsp. Celtic sea salt, or to taste
2 Tbsp. of lime or lemon juice
4 green onions, chopped
2 radishes, quartered and thinly sliced
1 avocado, pit removed, peeled and cubed
½ red bell pepper (orange or yellow), chopped
1 ½ cup peeled and cubed cucumber
1 small bunch of fresh dill, chopped
a handful of pine nuts for garnish (optional).
Directions:
To make the soup base or "kvas", put the juice pulp in a deep glass or ceramic bowl, and cover with water. Stir, loosely cover with a lid, and leave to ferment on the kitchen counter for 24 to 48 hours, stirring once a day. Adding the probiotic powder is optional—the mixture will ferment on its own just fine.
The kvas is ready when it tastes slightly sour. Strain it through the sieve, using a spoon to squeeze out all available liquid. (If you're not using the pulp in any other dishes, it's now ready for composting. By now the kvas has taken on a beet color, and makes a great probiotic-rich drink, which can be drunk as is, and is much more hydrating than plain water. Transfer to a glass jar and refrigerate until ready to drink or make cold borsch.
To make borsch, add 1 qt. of kvas into a big bowl. Stir in honey, salt, and lemon juice until they completely dissolve. Adjust the proportions of these ingredients until the kvas has a tangy bite that tastes good to you. You can use a few pre-soaked dates instead of honey, but you'll need to blend them together with the kvas in a blender. Now you're ready to add all the rest of the ingredients to the kvas. Stir the soup, and chill for an hour or two if desired. Just before serving, garnish with pine nuts or any other nuts you have on hand.
Ingredients: carrot, beets, apple, water, raw honey, sea salt, lime, onion, radish, avocado, red bell pepper, cucumber, dill, pine nuts
Recipe Type: Main Course