Raw Tacos with Cashew Cream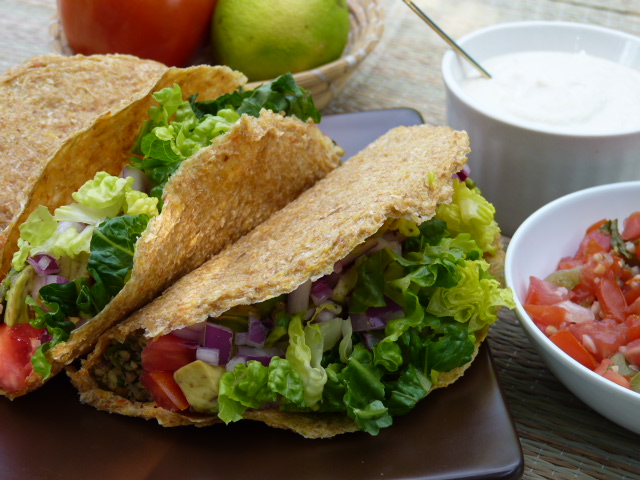 When we prepare raw food dishes from other cultures, it is usually the specific spices and herbs that help us achieve the flavors associated with each country's traditional cuisine. Mexican dishes emphasize cilantro, cumin, lime, chili and jalapeno peppers, all of which are included in these tacos.
Recipe Author: Beautiful on Raw
Preparation Time: 75
Serves: 6
---
Ingredients for taco shells:
kernels from 4-5 ears of corn (about 5 cups)
1 cup yellow bell pepper, seeds removed and cut into pieces, or 1 cup pulp left from Cauliflower Carrot Juice
1 cup ground golden flax seeds
2 Tbs. onion, chopped
1tsp. Celtic sea salt
3 Tbs. lime juice
1/8 tsp. chili powder
small pinch cayenne pepper (optional)
Ingredients for the filling:
1 ½ cups walnuts, soaked
1 bunch of cilantro, roughly chopped
2 ½ tsp. cumin powder
1 ½ tsp. coriander, ground in a coffee grinder
2 tsp. jalapeno pepper, finely chopped
3 Tbs. onion, finely chopped
1/4 to 1/3 cup water
Ingredients for cashew "sour cream":
1 ½ cups cashews, soaked for a few hours and rinsed
1tsp. organic onion powder
¾ cup water
2 tsp. lemon juice
½ tsp. Celtic sea salt
Additional toppings for your tacos: avocados, tomatoes, onions, and lettuce.
Directions:
Taco shells: Process all the ingredients in a food processor, until the mixture is spreadable and creamy adding water as needed to achieve the right consistency. Spread onto lined dehydrator trays, forming circles about 5" in diameter and 1/8" thick with the help of a spoon, or using a small plate as a guide. Dehydrate for 6-7 hours at 105 degrees, then flip the tacos over using a spatula onto mesh trays, and dehydrate for a couple more hours until dry on the outside, but still pliable. Bend to form taco shells, place between the trays, and continue dehydrating for a little longer, until they reach the desired crispiness and keep the shape of the taco shell. Another option is to simply leave the shells flat.
Taco filling: Place all the ingredients into a food processor and pulse until the mixture resembles taco "meat". Transfer to a bowl and refrigerate until ready to assemble tacos.
Cashew "Sour Cream": Process cream ingredients in a blender until smooth. Transfer to a bowl and keep in the refrigerator.
Chop the avocados, tomatoes, onions and lettuce and place in separate bowls.
When taco shells are ready, assemble your tacos by placing the filling and vegetables in each shell. Top with cashew cream.
Note:
Preparation time is 1 hr. 15 min. plus soaking and dehydrating time.
Ingredients: avocado, cashew, cilantro, coriander, corn, cumin, flax seeds, hot pepper, lemon, lettuce, lime, red onion, sweet pepper, tomato, walnut
Recipe Type: Main Course