Spicy Collard Greens Vegetable "Sushi"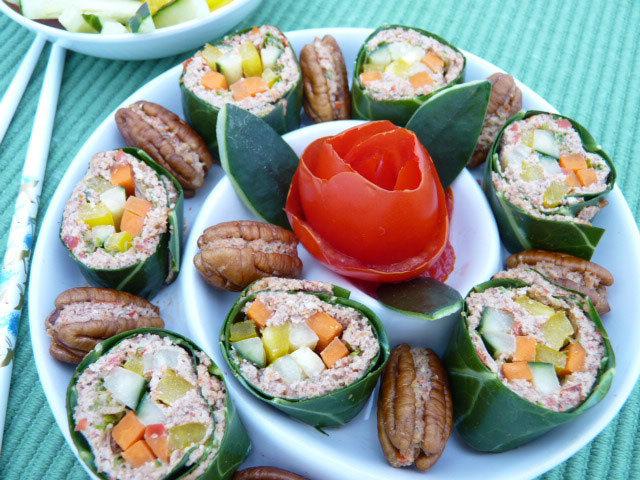 Dark leafy greens are a very important piece of a well-balanced raw food diet due to their un-paralleled nutritional profile. This appetizer offers a pleasant way to consume them.
Recipe Author: Beautiful on Raw
Preparation Time: 75
Serves: 3
---
Ingredients:
1 ½ cup pecan nuts, soaked overnight, then rinsed and dried in a dehydrator
½ tsp. Celtic sea salt
5 tsp. lemon juice
1 red bell pepper, roughly chopped
3 tsp. Jalapeno pepper, finely chopped
a few collard greens leaves, washed, de-stemmed, and dried with a cloth
1 cucumber,  1 yellow bell pepper, 1-2 carrots, cut intro thin sticks/strips
a handful of any sprouts
some pecan halves for decoration (optional)
Grind the pecans in a food processor until crumbly. Add salt, lemon juice, bell pepper and Jalapeno pepper, and process some more, until well mixed. The consistency should be one of a thick paste. Add more lemon juice if necessary. Prepare the collard leaves by cutting each half of the leaf in a shape of a long rectangular strip. Lay the leaf dark side down. Spread about 1 ½ tsp. of the nut paste onto the leaf at one end,  arrange some of the veggie sticks and sprouts on top of it, spread another ½ tsp. of the nut mix over the veggies, and roll like you would sushi. Use a small amount of the nut mix to seal the ends of the collard leaf. When done, straighten both open ends showing the veggies with a sharp knife. Arrange on a plate. You can also spread the mix between two pecan halves, press them together making a small sandwich, and use them as part of your arrangement. Note: Preparation time is 1 hr.  15 min., plus time for soaking and dehydrating the pecans.
Ingredients: collard greens, cucumber, hot pepper, lemon, pecans, sprouts, sweet pepper
Recipe Type: Main Course, Snack