Raw Coconut Yogurt with Pomegranate and Chia Sauce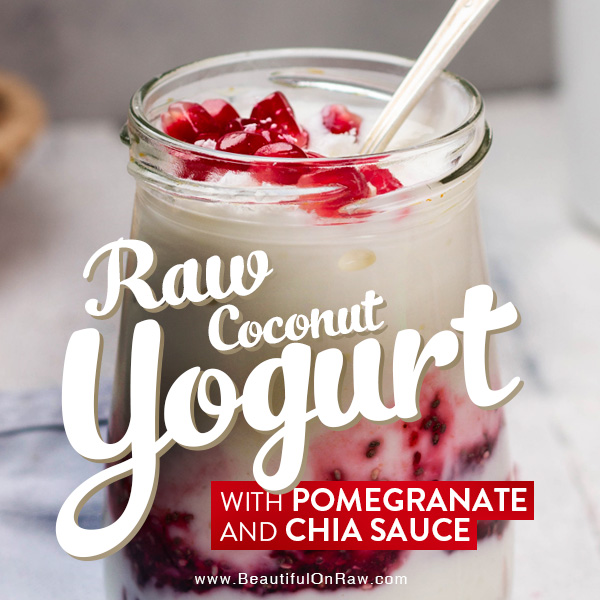 This recipe is my latest fave. If you like yogurt, you'll love it! This is healthy as it gets and, yes, it does taste exactly like the real thing! It's easy to do, too. You can make this creamy and delicious Raw Coconut Yogurt at home without any special equipment. Just 3 simple ingredients! 
Recipe Author: Beautiful On Raw
Preparation Time: 20 min
Serves: 4
---
This yogurt might last you for 4 or more days. I like to have a small serving of this yogurt first thing in the morning—it's a great probiotic to jump-start your digestion. And if you're trying to eliminate late night eating, this yogurt can be an ideal last meal of the day.
2 cup coconut meat (2 large young coconuts)
1 cup coconut water (from the same coconut)
2 Tbsp maple syrup
2 capsule probiotic powder
For pomegranate & chia sauce:
1/2 cup fresh pomegranate juice
3 Tbsp chia seeds
1/2 cup pomegranate seeds for decoration
Directions:
Make the pomegranate and chia sauce by mixing pomegranate juice and chia seeds in a bowl. Transfer this to the fridge.
Place the coconut meat and coconut water in the Vitamix and process until smooth. Pour the mixture in a bowl and add maple syrup and probiotic powder. Stir. Cover with a clean kitchen towel and leave out overnight. You will have a finished Coconut Yogurt in the morning. Pour this into a portion glasses or jars and add the sauce. Decorate with pomegranate seeds. It's so delicious!
Ingredients: coconut meat, coconut water, chia seeds, pomegranate seeds
Recipe Type: Smoothie