Creamy Cilantro Smoothie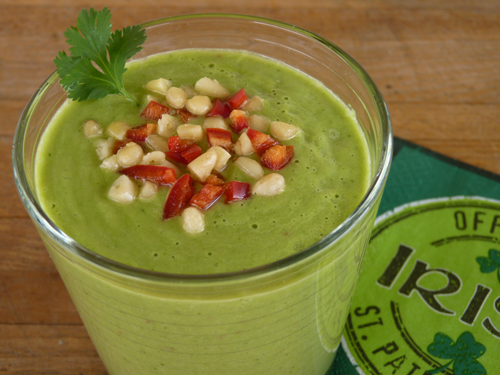 Spring is the time for greens - cleansing, nutritious, hydrating and alkalizing. In this savory recipe cucumber, cilantro and celery ensure all of the above, in a lovely combo with a satisfying avocado.
Recipe Author: Beautiful on Raw
Preparation Time: 15 min.
Serves: 1-2
---
Ingredients:
1 cucumber, cut into chunks
5-6 stalks of celery, cut into pieces
1 small bunch of fresh cilantro (about 1 packed cup), chopped
¼ - ½ of red bell pepper, cut into pieces
1 Tbs. fresh lime juice
1 avocado, peeled and pit removed
½ tsp. Celtic sea salt
a small piece of hot pepper (to taste)
a few pine nuts for garnishing
Directions:
Make 2 cups of juice from cucumber and celery. Place the juice into the blender, add the rest of the ingredients, except for nuts, and blend on high until smooth. Pour into a glass, and garnish with chopped red pepper and pine nuts.
Ingredients: cucumber, celery, cilantro, red bell pepper, lime juice, avocado, sea salt, hot pepper, pine nuts
Recipe Type: Smoothie