Raw Energy Bars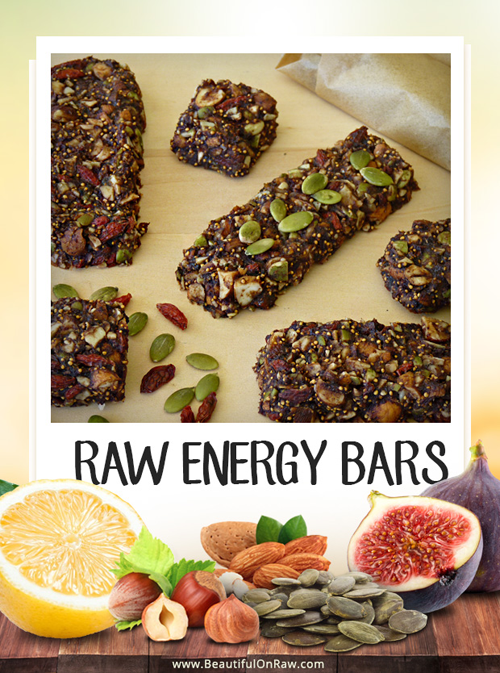 Summer is here and so is travelling. Here's an economical and easy way to make raw energy bars for a road trip.
Recipe Author: Beautiful on Raw
Preparation Time: 30 minutes plus time for soaking and dehydrating.
Serves: makes 20-22 bars.
---
Ingredients:
I cup hazelnuts, soaked and dehydrated
1 cup almonds, soaked and dehydrated
1 cup pumpkin seeds, soaked and dehydrated
3 cups dried black mission figs, soaked overnight, hard stems removed, and drained
1 heaping tsp. ground cinnamon
½ tsp. ground nutmeg
¼ tsp. Celtic sea salt
half a lemon, peeled, seeds removed and chopped
1 tsp. lemon rind, finely chopped
Directions:
Pulse hazelnuts, almonds, and half of the pumpkin seeds in a food processor until they are broken into small pieces. Transfer to a big bowl. Add the other half of the pumpkin seeds to the mix. In a food processor blend soaked figs, lemon, lemon rind, cinnamon, nutmeg, and salt until the mixture resembles thick smooth paste. When ready, add it to the nut mix, and mix well with the spoon.
Shape the dough into bars or squares or round cookie shapes, and place on Paraflexx sheets in a dehydrator. Dry at 115º F for 12-15 hours, turning the bars over directly onto the trays after a few hours of drying. Keep wrapped or in a covered container.
Ingredients: hazelnuts, almonds, pumpkin seeds, figs, cinnamon, nutmeg, sea salt, lemon, lemon rind
Recipe Type: Snack