Heart "Beat" Ravioli Appetizer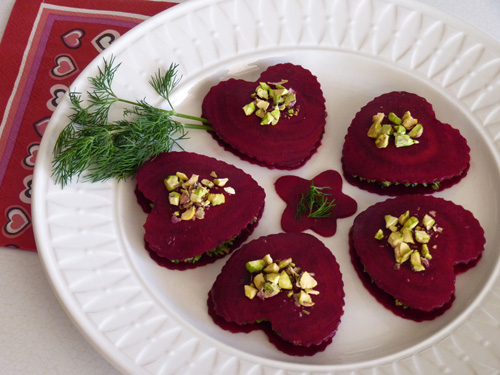 Say "I love you!" with beets! Beautiful color, pleasant taste, exquisite texture and an added bonus of nutritional boost thanks to the spinach, asparagus and of course the beets. Learn more about the wonders of beets in my article Benefits of Beets: Eye Bag Remedy.
Recipe Author: Beautiful on Raw
Preparation Time: 25
Serves: 2
---
Ingredients:
1 big red beet, peeled
2 handfuls of spinach
½ cup soaked and dehydrated pumpkin seeds
2 Tbs. fresh lemon juice, divided
½ tsp. Celtic sea salt, divided
1 Tbs. fresh dill
½ cup asparagus spears, cut
2 cloves garlic, peeled and crushed with the garlic crusher, or a small piece of hot pepper (to taste)
1 few raw pistachio nuts for garnishing, chopped
Using a mandolin slicer, slice the beet root into thin rounds, and then using a heart-shaped cookie cutter, make several heart shapes. In a small bowl combine 1 Tbs. of lemon juice and ¼ tsp. of Celtic sea salt, place the beet hearts into the mixture to marinate for 15-20 min. In the meantime, place spinach leaves, pumpkin seeds, asparagus, garlic or pepper, dill, and the remaining 1Tbs. lemon juice and ¼ tsp. salt into the food processor, and blend together until all well mixed and crushed. Place a few beet hearts on a plate, spread about 2 tsp. of the spinach mixture on each one, and cover with another beet heart. Garnish the top hearts with chopped pistachios. Note: Preparation time is 25 minutes, plus time for soaking and dehydrating.
Ingredients: asparagus, beetroot, dill, garlic, lemon, pistachio, pumpkin seeds, spinach
Recipe Type: Main Course, Snack