Sesame Kale Salad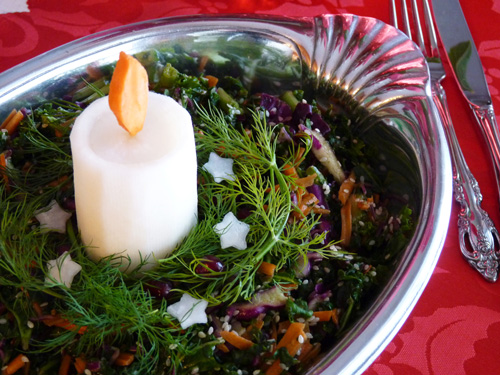 Resolving to become healthy in the New Year can start on new years' eve. A refreshing salad that doesn't require much time to put together will allow you to feel good about your resolutions and get a head start in reaching your health goals.
Recipe Author: Beautiful on Raw
Preparation Time: 25
Serves: 4
---
Ingredients:
5-6 cups of kale, chopped and stems removed
¾ cup carrots, cut into matchsticks
¾ cup red cabbage, chopped or shredded
¼- ½  tsp. Celtic sea salt, or to taste
2 Tbs. fresh lemon juice
1 – 2 Tbs. unrefined sesame oil (optional)
¼ cup hulled sesame seeds
pinch black pepper
daikon radish, carrot, dill and pomegranate seeds for garnishing
Combine kale, cabbage and carrots together in a bowl, add lemon juice and salt, and massage with your hands lightly until the kale leaves start to look wilted. Add oil, sesame seeds and black pepper, and mix well with a spoon. Transfer to a serving bowl. For a special holiday garnish, you can make a candle out of daikon radish, attach a flame made out of carrot (held in place with a toothpick), and place some dill sprigs around the candle, sprinkled with pomegranate seeds and daikon "stars".
Ingredients: carrot, kale, lemon, red cabbage, sesame
Recipe Type: Salad