Pesto Zucchini Noodles with Grated Brazil Nuts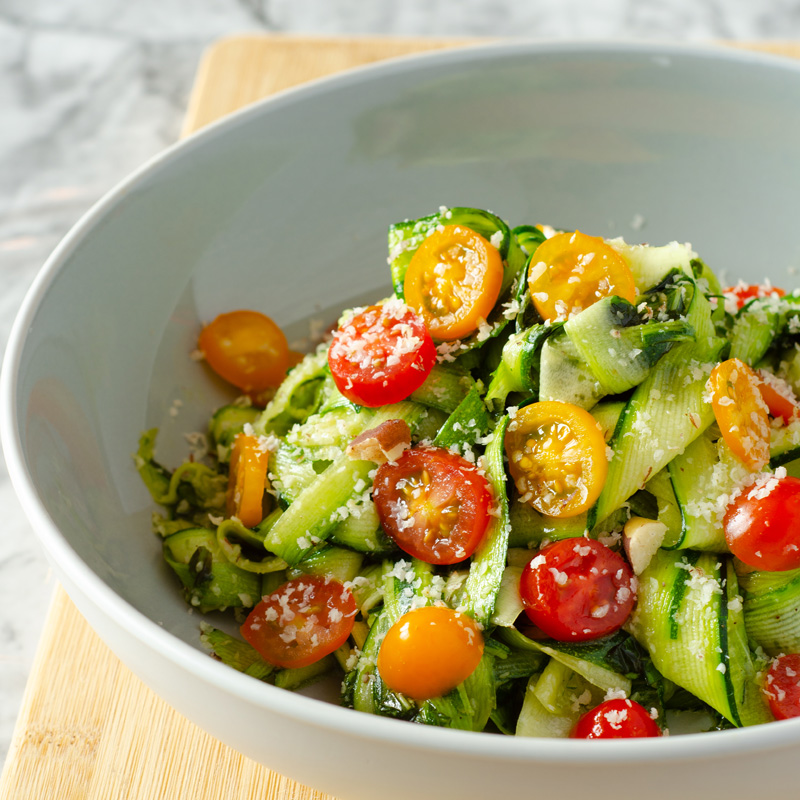 My credo: beauty is as beauty eats. Ensuring you eat daily some salad variation is a big part of how you feel, how you look. When I began my raw food journey, I didn't like salads. But I developed that love. You can, too.
Your appreciation for this raw goodness will grow as you love your own body and understand that asking it to slow its aging means optimum nourishment. Salads, in that respect, top all other dishes. Their endless variety of color, texture, and taste that raw salads bring is a great delight. Try this simple, delicious recipe. 
More information on beautifying properties of raw foods in my book Your Right to Be Beautiful.
Recipe Author: Beautiful on Raw
Preparation Time: 15 min
Serves: 2
---
Ingredients:
1 large zucchini, spiralized or cut into thin slices
¼ cup fresh basil leaves
½ cup cherry tomatoes, sliced
¼ cup extra virgin olive oil, cold-extracted (optional)
6-7 whole brazil nuts
pinch of pepper salt to taste
Directions:
Soak the nuts in water overnight. Drain, grate, and set aside. In a blender or food processor, combine the olive oil and basil leaves. Season with salt and pepper. Add the basil mixture to the zucchini noodles and mix well. Place the noodles on plates, top with cherry tomatoes, and sprinkle with grated brazil nuts.
Ingredients: zucchini, basil leaves, cherry tomatoes, Brazil nut
Recipe Type: Salad