Jicama Salad With Citrus Dill Dressing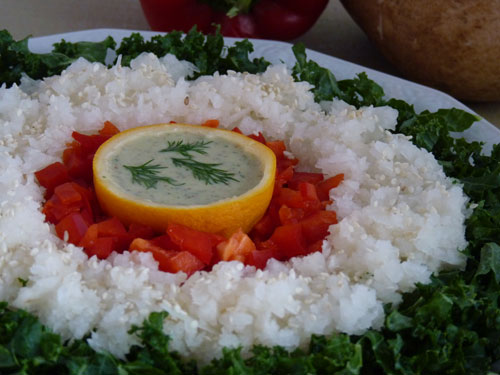 A feast for the eyes as well as the palate, this hearty salad offers a splash of colors arranged in circles, and features juicy jicama in the company of dark leafy greens, peppers and a tangy dressing.
Recipe Author: Beautiful on Raw
Preparation Time: 25
Serves: 1
---
Ingredients for Salad:
1 cup jicama, peeled and cut into chunks
1 cup kale, stems removed and leaves finely chopped
½ cup red bell pepper, finely chopped
1 Tbs. hulled sesame seeds
1 Tbs. lemon juice
Ingredients for Dressing:
½ cup fresh orange juice
2 Tbs. fresh dill, finely chopped
1 clove garlic, minced
2 Tbs. raw almond butter (or tahini)
1 ½ Tbs. fresh lemon juice (save 1 lemon half)
½ tsp. Celtic sea salt
Place jicama in a food processor and pulse until all the pieces are broken down into shreds. Sprinkle the chopped kale leaves with 1 Tbs. lemon juice and rub them between your fingers to help break the cell walls and soften the leaves. Arrange in a big circle on a serving plate. Arrange a white jicama circle next, and then the circle of chopped red bell pepper. Flatten the bottom of the half of one lemon peel with a knife but without piercing through, remove the pulp from the inside of the peel with your clean finger, and place the lemon peel it in the middle of the plate and fill it with dressing. Sprinkle jicama with hulled sesame seeds. Sprinkle extra dressing onto the kale leaves if desired. Just before eating, pour the dressing onto the salad and enjoy.
Ingredients: almond butter, dill, garlic, jicama, kale, lemon, orange, sesame, sweet pepper
Recipe Type: Salad