Quinoa Tabouli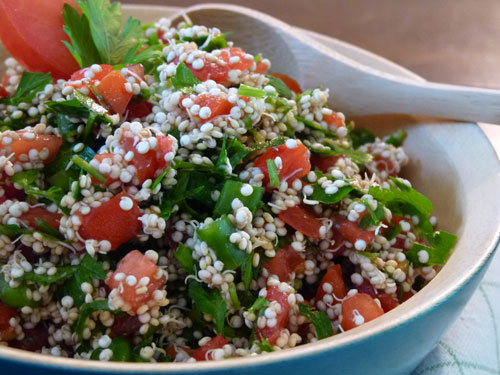 Quinoa is a seed of the Chenopodium Quinoa plant, grown widely in South America. It's a good source of magnesium, phosphorus, iron and calcium for vegans and vegetarians, and boasts a wide array of essential amino acids.
Recipe Author: Beautiful on Raw
Preparation Time: 20
Serves: 4
---
Ingredients:
1 ½ cup quinoa, soaked overnight and sprouted for 2 days until little "tails" appear
1 big bunch of flat leaf parsley, chopped, and bigger stems removed
3 cups tomatoes, chopped
½ cup scallions, chopped
juice of 1 lemon (1/8 – 1/4 cup to taste)
1 – 1 ½ tsp. Celtic sea salt
dash of black pepper
2 Tbs. olive oil (optional)
1 tsp. granulated garlic powder (optional)
Rinse and drain sprouted quinoa well, and combine in a bowl with all the other salad ingredients. Mix well with a spoon, and let the dish sit in the refrigerator for 1-2 hours to allow the flavors to blend. Stir once again just before serving. Note: Preparation time is 20 minutes plus time for soaking and sprouting.
Ingredients: green onion, lemon, parsley, quinoa, tomato
Recipe Type: Main Course, Salad