Raw Vegan Sushi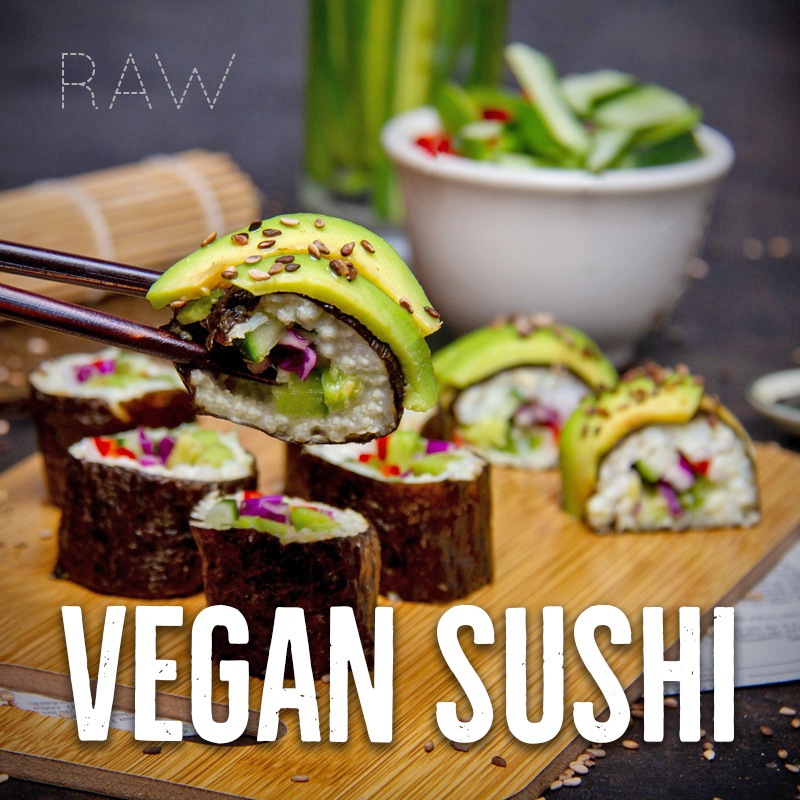 We've a lot to learn from Japanese cuisine and its many iconic raw dishes. Here, we'll make traditional Maki, rice rolls wrapped in Nori seaweed. We'll substitute raw cauliflower rice for cooked rice. Try to make your makis colorful and attractive.
The brighter the color of the fruit or vegetable, the more⁠ nutrient combatants it has to prevent degenerative diseases. Now picture what happens to the original rainbow of colors after cooking. The colors fade... How can it not be more obvious to us: by tampering with natural products, we are losing something essential for our health and beauty.⁠ ⁠⠀
⁠⠀
To learn more about beautifying properties of raw foods read my book Your Right to Be Beautiful: The Miracle of Raw Foods⁠.
Recipe Author: Beautiful on Raw
Preparation Time: 25 min
Serves: 4
---
Ingredients: for the rice…
4 sheets of large Nori's seaweed. (Use these doubled for strength)
1 large cauliflower, about 4 cups
4 Tbsp of almond butter
1 Tbsp of lemon juice
½ tsp of raw honey
a pinch of salt
for the filling…
1 avocado
1 lemon
1 small red bell pepper
1 small green bell pepper
1 cucumber
1 cup of finely chopped purple cabbage
2 Tbsp of sesame seeds
You'll also need a makisu (sushi mat) like the one seen in the photos.
Instructions:
Cut the cauliflower into florets. Save the stems and leaves for later use. Wash the florets well. Grate them on the thick side of a cheese grater, or cut finely with a sharp knife, or mash in a food processor. The cauliflower pieces should be smaller than a grain of rice. Put the cauliflower rice in a mixing bowl. Add the almond butter, lemon juice, raw honey, and a pinch of salt. Knead till you get a doughy mixture.
Make the sushi filling by cutting the vegetables into sticks. Cut peppers and cucumbers into strips. Place the strips on a plate in an orderly fashion. Peel the avocado, sprinkle it with a few drops of lemon, and cut it into sticks a little less than 2 inches long.
Set your makisu (sushi mat) on a flat surface. Arrange a bowl with water, your cauliflower mix, and your plate with the vegetable sticks. Place two nori seaweed on the mat, glossy side down. Wet your hands and place a handful of cauliflower rice on the seaweed. spreading the cauliflower till it occupies about half, in an even thickness.
Arrange the vegetables lengthwise on top of the rice. Carefully roll up the seaweed, using the mat to help you to press the ingredients. Repeat the operation with the rest of the ingredients. Use a wet knife to cut the sushi into appropriate portions. You can decorate some makis with thin slices of avocado, or sprinkle on some sesame seeds.
Ingredients: cauliflower, almond butter, red bell pepper, yellow bell pepper, avocado, red cabbage
Recipe Type: Main Course