Sweet Sesame Treats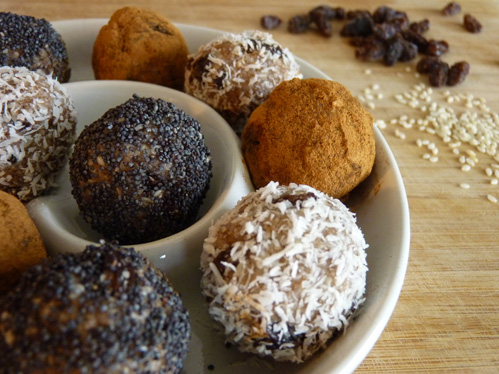 These treats are not only high in bioavailable calcium, but they taste delightful, so definitely make extras if you have kids or are planning to bring them to a potluck: they will go quickly!
Recipe Author: Beautiful on Raw
Preparation Time: 20
Serves: 3
---
Ingredients:
¾ cup hulled sesame seeds, ground in a coffee grinder (grind them in small batches if your coffee grinder is small)
½ cup raisins, rinsed and dried with towel (or use any other chopped dehydrated fruit)
1 heaping Tbs. of raw honey
1 Tbs. raw carob (optional)
1 Tbs. unsweetened shredded coconut
1 Tbs. poppy seeds
1 Tbs. ground cinnamon
Place ground sesame seeds and carob, if using, in a bowl, add honey and thoroughly mix together with a spoon. Fold in raisins. The mixture won't appear sticky, but you should be able to mold it into 1" diameter balls with your hands (vinyl gloves come in handy for molding). Make several balls and roll them in cinnamon, coconut shreds, and poppy seeds just to have a variety of coatings. Cool in the refrigerator for a couple of hours and enjoy.
Ingredients: carob, cinnamon, coconut, poppy seed, raisins, raw honey, sesame
Recipe Type: Dessert