Thai Mango Cabbage Wraps with Cashew Sauce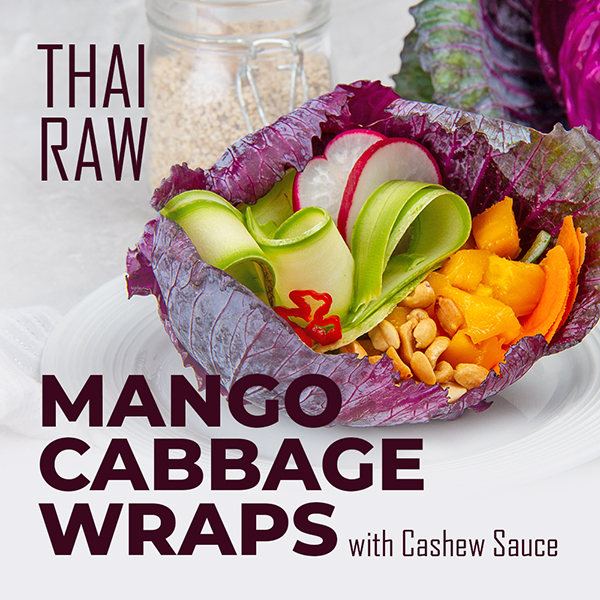 This scrumptious mix of raw, colorful vegetables with a mango cashew sauce and lots of spices brings all the color and flavor of Thailand.
In cooking, the original colors of fruits and vegetables are dulled and the initial variety of flavors is altered. Make no mistake, the nutritional value is gone as well.
Discover a natural way of eating that can dramatically improve your appearance and your life! Make sure you read my ebook Beautiful On Raw: Uncooked Creations.
 
Recipe Author: Beautiful on Raw
Preparation Time: 15 min
Serves: 4
---
Ingredients:
1 medium purple cabbage
1 carrot
1 zucchini
1 ripe mango
1 radish
1 red jalapeño (optional)
½ cup wild peanuts (soaked overnight)
For the sauce:
1 cup of water
½ cup cashews (soaked overnight)
¼ cup of water
2 Tbsp olive oil
2 Tbsp of lime juice
½ cup of mango pulp
1 Tbsp of tahini
1 tsp of fresh ginger grated
1 tsp of garam masala
1 tsp of sesame seeds
1 Tbsp of raw honey (optional)
salt and pepper to taste Instructions:
Soak the cashews in a cup of water overnight. Drain the excess water, rinse the cashews, and place them in the blender.
Add fresh water, oil, and lime juice. Blend for at least 3 minutes until you get a completely homogeneous sauce. Add the mango pulp, tahini, ginger, garam masala, salt, and pepper. Blend for 2 minutes.
For the Wraps:
Cut the stems and separate the cabbage leaves. You will use only use the outside leaves. Choose the four largest leaves, wash them, and lay them on the serving plates. Peel the carrot, and with the vegetable cutter, make thin ribbons. Use a spiralizer if you have one.
Don't peel the zucchini in the conventional way. Instead, apply light pressure with a vegetable peeler along the sides of the zucchini. You will get fettuccine-like slices. Discard the centre containing the seeds.
Peel the mango and cut the pulp into cubes with a sharp knife. Wash the radish and slice thinly. Wash the chili pepper, extract the seeds, and cut it finely. When you have all the vegetables cut, divide them into 4 equal portions and place them inside the cabbage leaves—first the carrot, then the zucchini, the mango, the radish, and finally the chili.
Add some wild peanuts and a generous portion of sauce. You can add a little coriander or sesame seeds on top. Roll each cabbage leaf over and around the filling to form a packet.
Ingredients: red cabbage, carrot, mango, zucchini, sesame seed
Recipe Type: Main Course