Buckwheat Tabouli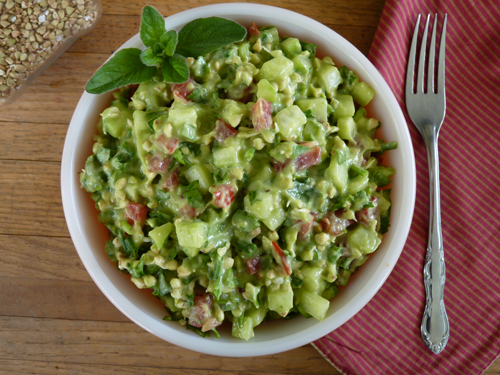 This hearty dish features several spring greens and juicy non-sweet fruits served in a creamy avocado-based dressing.
Recipe Servings: 3-4
Recipe Total Time: 30 min. plus time for sprouting buckwheat
Ingredients:
For tabouli:
1 small bunch fresh parsley, thick stems removed, and leaves finely chopped
2 cups cucumbers (about 1 medium size), peeled and finely chopped
½ cup fresh mint leaves, finely chopped
½ cup scallions, finely chopped
½ cup buckwheat groats, soaked for 1 hour and sprouted for 12-24 hours
4-5 asparagus spears (optional), finely chopped
3 firm Roma tomatoes (about 1 cup), deseeded and finely chopped
For tabouli dressing:
1 avocado, peeled, pit removed, and avocado cut into pieces
1 cup cucumber, peeled and chopped
3-4 Tbs. fresh lemon juice
½ - 2/3 tsp. Himalayan salt
dash ground black pepper
Directions:
Prepare the dressing by blending the dressing ingredients in a blender until smooth. Adjust the taste if necessary. Combine salad ingredients in a bowl, add the dressing, and mix everything well together. Refrigerate for a couple of hours before serving, if desired.